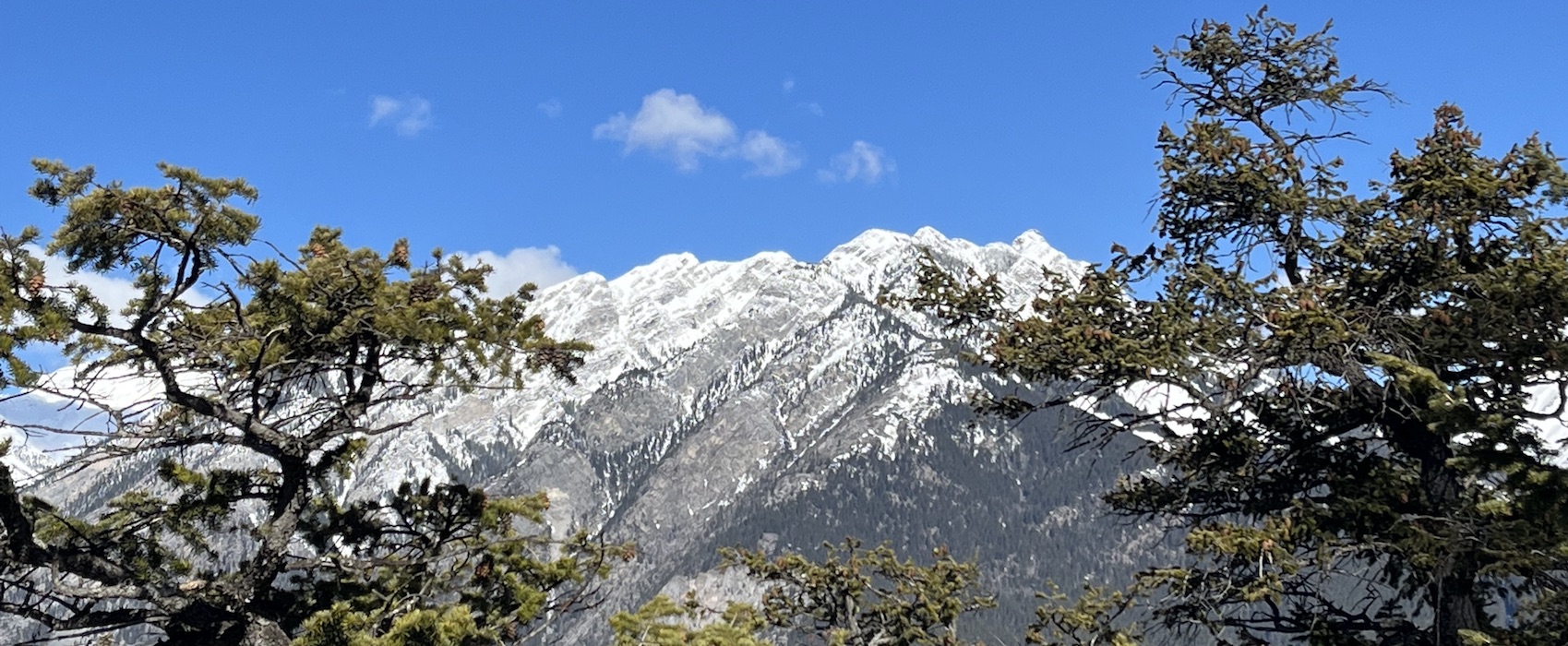 Lessing Award Acceptance Speech
By Brian Quirt
On Receiving LMDA's G.E. Lessing Award
June 24, 2023, Banff, Alberta
Introduction by Jenna Rodgers and Liz Engelman
Jenna Rodgers: It is our pleasure to have the honour of presenting this year's Lessing Award, which has been on hiatus since our last Canadian Conference in Toronto in 2018.
Liz Engelman: The Gotthold Ephraim Lessing Award is our most prestigious tribute, given for a lifetime of achievement in the field of dramaturgy. It has been bestowed upon Anne Cattaneo, Arthur Ballet, Michael Lupu, Mark Bly, DD Kugler, Morgan Jenness, Geoff Proehl, and Bob White.
JR: This year, another dramaturgical giant joins the ranks. // This dramaturg has a mind like a steel trap and more achievements than we can possibly list here – but we're going to try (and he might tell us what we've missed)…
LE: This Canadian dramaturg is the Artistic Director of Nightswimming Theatre, a company he established in 1995. Nightswimming is an award-winning Canadian dramaturgical company with a mandate to focus on theatrical creation, performance, and research through commissioning and developing new Canadian plays, musical works, and dance. Since Nightswimming's inception, the company has been recognized with 4 Governor General's Award nominations, and 10 Dora Mavor Moore Awards – major recognitions in Canadian theatre. This extraordinary dramaturg has ensured that artists working with his company have access to international collaborations in countries like the US, the UK, Denmark, Iceland, Norway, Mexico and more.
JR: In addition to this excellence, our dramaturgical colleague has also held the position of Director of the Playwrights Lab right here at the Banff Centre since 2012. He just championed an incredible 50th edition of the Playwrights Lab, creating an anthology of 50 articles (you've all received) written by artists who participated in the Lab between 2013 and 2023. He has championed 445 Lab participants in the last decade, and more than 60% of the projects selected for the lab have gone on to full production. He's re-asserted the importance and significance of commissioning in our theatrical landscape, and has established 5 co-commissions with major organizations during his tenure as Playwrights Lab Director.
LE: This year's award recipient is a 2-time winner of LMDA's Elliott Hayes Award and a long-time member of LMDA, having held the positions of Conference Chair, Board President, and Board Chair. In fact, he loves LMDA so much he established a new chapter of LMDA – LMDA Canada – in 1997. He's helped to draft our sample contracts, supported several LMDA presidencies, established the Lessing Circle and the Radiating Change campaign, and so, so, so much more. After his many years with the organization he stepped back in 2021… only to immediately sign on as Conference Co-Chair in 2022 (for this year's conference).
JR: He's been and done all of these things, but more than anything else – to us – he's a colleague, collaborator, and friend. He's the reason that many Canadian and US dramaturgs have pursued their career paths – Liz and myself included.
LE: For so many like us, this artist has been a draw to dramaturgy as a practice and a field. He's been the reason so many of us joined and invested in LMDA over the years and decades – although no one has invested quite like he has.
JR: If he reaches out, you say YES before you even know what he is going to say, because you know it will be meaningful, important, impactful, and, most of all, fun.
LE: If there's a new idea to be had, this dramaturg has it. If there's a collaboration to be born, he creates it. If there's a creative hole to be filled, he fills it.
JR: If there's an innovative seed to be planted, this dramaturg will plant it. If there's a border to be crossed, he crosses it. If there's an organization to lead, he leads it, and he wears every hat possible – with rigor, grace and humility.
LE: And, if there's a joke to be made, he makes it.
JR: At this point, I'm sure many of you know who our award recipient is. He has consistently uplifted and supported the work of so many people, created, curated, and nurtured so many projects during his time with LMDA. And for these reasons it brings us great joy to present this lifetime achievement award, the Lessing Award, to the one – the only –
LE & JR: Brian Quirt!
Thank you.
Something interesting… two months ago during the 50th edition of the Banff Playwrights Lab a playwright compared me to a heron. I get it. I'm tall and thin and grey.
Related fact… 7 years ago, I wrote and delivered a speech recognising the legendary Geoff Proehl – and oh, look, there he is right now, right here – as he received the Lessing Award. In the speech I compared him to a heron. Because he's the heron, not me. We're both tall, granted, but he is wise, wisdom personified, and gracefully slow-moving like a heron in flight. I don't see myself in this, but I took the compliment. Because in some way, in some part of my head, I felt I was being associated with my friend and colleague Geoff. And that moved me. Just like in this moment, right now.
An aside: a less satisfying moment at the recent Lab was when a playwright asked if I had been part of all 50 years at the Playwrights Lab. I tried to take the compliment within that, I really did, but it was tough, I admit it. The answer, by the way, is no.
Less related fact, but it will come around. I was here in March and I thought about Magpies. You've seen them outside this week, no doubt, racing above this beautiful Stoney Nakoda land we are gathered on, seeking for gold (or food), their feathers lightly iridescent, their call raucous when they want it to be. The comparison that struck me is that of dramaturgs and magpies. Magpie lore in some cultures and lands contends that they are naturally curious, attracted to shiny objects – sound familiar? – and, it is even said (at least by Wikipedia) that the magpie is one of the world's most intelligent creatures.
As I said, just like dramaturgs.
To extend this thread perhaps beyond its capacity to hold, they were once popular as cage birds, are one of the few non-mammals able to recognize itself in a mirror, and – hold on to your chairs – there is a belief in some lands that while one magpie indicates bad luck, two or more brings joy.
I rest my case.
And Geoff, my friend, your heron-ness is safe.
•
It is a particular and very deep pleasure to receive this honour – and thank you again – to receive this honour that you are bestowing on me here. By that I mean not only in Banff, on Treaty 7 territory, which has been one of my artistic landscapes for more than a decade now, and where I hope I have had impact. I have certainly had remarkable times here with creators and stories and friends and elk and the buffet and, always, always, with ideas that might just change our way of sharing our stories with others by redefining who tells those stories, which stories we urge them to tell, and how they will reach audiences that may just change if we offer them more – more voices, more forms, more fun, more thought, more community – in the tales we nurture toward the people who will absorb them.
What I in fact also mean, however, by here is all of you. We all live in circles of communities. Some overlap, some are adjacent. And some are central to our identity, that spur us on, ask much of us, to which we give generously and freely, acknowledging that in the best of times we get more out of our gift than those who receive it. That is my story. I've given a lot to this landscape, the LMDA landscapes – because there is always more than one – the dramaturgical landscape, the land of stories and collaboration and…. You understand. That's all we've talked about this weekend.
By here, in addition to that, what I think I mean, or at least I feel, is Jenna, Liz and Vicki, Mieko and Bob, and Ken and Marie (generous nominators!) and Cindy, and… Geoff.1
And Lynde, Matt, Danielle, Bruce, Scott, Kodie, Eden, Bryan, Jani, Christine, Nathaniel, Ami. And Danielle who is not here, and Lindsey who is.2
And each of you. And to many not here, who mean so much to me regardless of where they are tonight – Kugler, Mark, Anita, Marcus, Iris, Kelly and John, Shelley and DJ, Carmen, DD and Anosh, Beth, Martine. And where is Martine?3

To receive this recognition in a landscape I call home – Banff, a conference I co-chaired, about the places we tell our stories and what the land gives to them. That's a gift I don't think I can compete with, that I can't top….that can't be topped.
•
Several years ago when I stepped down as LMDA Board Chair, and was thrilled that my truly amazing conference co-host this week, Jenna, took on the role of co-chair with Anne4, some of you put together a handsome volume to mark my passage from that to something else. Many lovely things were shared with me. Among those that really struck me were comments about hosting. About how we treat those whose company we seek, whether for work or friendship or – the best – both.
I was struck because I was both aware of my long-standing investigation of hosting – among other ways, by designing festivals and prior conferences and events and processes and productions, all of which involve – or should – the act of hosting. The volume reflected back to me something valuable about myself, and also how the attention I've invested in this study and the action of hosting in so many forums, has evolved into something very powerful. At its heart, hosting is grounded in the value of how we treat others (whom we sometimes call audiences, but perhaps we should find a much better word to describe those individuals and our relationship to them); it is grounded in how we elevate their experience and in doing so offer them unexpected horizons that they so often reach. It is part of our art. It feels strange, I can now admit, as one of your hosts, tonight, to be feted by my/our guests. But it is also so beautiful, and precious.
•
If I may, for many years my work at Nightswimming, which I cherish; LMDA & LMDA Canada, which I adore; Banff, which is, you know, ok, and all the other environments that have invited me in, has been focused, perhaps similar to my attention to hosting, on designing a site or sites in which the artist's work can flourish because they are empowered to design the landscape in which it will blossom. Nightswimming is largely based, as many of you have heard all too often, on the premise that it is a place where I only do things that I love, things that I can't do anywhere else, and things that I don't know how to do.
As that thought came to me, as I dramaturged Nightswimming many years ago (with my friend and colleague Naomi) into its current forms, I now see that I started to design for others a freedom that I sought for myself – and I am very very fortunate to have been able to sustain this, this Nightswimming, with the unbelievable contributions of Naomi, Rupal, Brittany, Leslie, and many others, and now Gloria, who is also among the here here today.
I applied that desire for freedom to the artists I worked with, seeking a way to elevate and valorise and listen to what they wanted to do and how they wanted to do it. To acknowledge what I know and can offer, but to place that in a zone that made us as equal as possible in the pursuit of the play, story, dance, song, salsa, whatever. The gold, the shiny object I seek, if I may return to our magpie friends, is in others as much or more than myself. I'm not shy about my own skills. My ego is healthy. But if I can offer anything to this moment, to all of you, to the field and to those I work with, it is the essence of partnership, of working together, of hosting, of committing to find a way to work that isn't 'new' but is unique to the voices of those who seek to bring it to life.
I don't pretend that is easy or simple. I've devoted my career to it, gently, persistently, vocally, profoundly, in the belief that we can do better, that better isn't a result or a product, but a process (how's that for a wildly dramaturgical statement). That if we think more fully and carefully about the process and our place in it, we can tailor it to those who need it to serve them, not me or us or others. We design our own boxes by agreeing to work in them. We don't have to.
I think my example, such as it is, an example that includes the contributions of many people, many of them in this room, though some of them not, including the love of my life, Nancy, from whom I have absorbed more than I think she could ever imagine, and likely much more than I've ever told her…until here … thank you Nancy5.
My example, if anything, is an example of the power of dramaturgical thinking. It takes a life to shape, and I hope that in getting to this moment I have shared it with those who will take it in other powerful potent directions and surprise and shock me with how they – you – wield it in the future.
•
Speaking of magpies and herons. The bird that I am probably not, but wish that I were, is the hummingbird. The Siamese cat of birds, gorgeous, fast, slippery, well-travelled, wide-spread but precious, a bit cheeky, equally iridescent, and as full of fun as a bird can be. Most of us are not quite what we wish, so I'm ok with not being the thing I love, but I also know we all have the power to get closer to that shiny object we see out there.
Here in Banff, at Nightswimming, in the other theatres and projects and teams and executives and boards and shows and communities that have shaped my work, I've been seeking a way of collaborating that has perhaps only taken shape fully in the last few years.
For that, I am grateful in here (head), because the pursuit was conscious. And I'm proud, very proud of it.
For this honour, tonight, I am grateful in here (heart), and joyous because it is here, with all of you.
•
Now, later this evening, after dessert, let's turn to the land, let's be here, where stories have been told for millennia, where gatherings from then to now have circled a fire, where smoke links land and sky.
And, if you are moved to, I invite you to consider the three prompts for reflection we offered at our first conference session on Thursday evening … and perhaps let your responses slip into the fire.6
And see what you can make possible.
Delivered June 24, 2023, at the LMDA International Dramaturgy Conference: 'Dramaturgical Landscapes'
Banff Centre, Banff, AB, Canada.
Presented by former LMDA President & Board Chair, Liz Engelman, and current Board Co-Chair Jenna Rodgers.
Dramaturgy: Anita Majumdar, Rupal Shah.
---
1 Jenna Rodgers, Liz Engelman and Vicki Stroich, Mieko Ouchi and Bob White, and Ken Cerniglia and Marie Barlizo (generous nominators!) and Cindy SoRelle, and… Geoff Proehl.
2 Lynde Rosario, Matt McGeachy, Danielle Amato, Bruce Barton, Scott Horstein, Kodie Rollan, Eden Middleton, Bryan Moore, Jani Lauzon, Christine Quintana, Nathaniel Hanula-James, Amiel Gladstone. Danielle Carroll and Lindsey Barr (LMDA Executive Directors, past and present).
3 Don Kugler, Mark Bly, Anita Majumdar, Marcus Youssef, Iris Turcott, Kelly Robinson and John Murrell, Shelley Orr and DJ Hopkins, Carmen Aguirre, Don Druick and Anosh Irani; Beth Blickers, Martine Kei Green-Rodgers.
4 Anne G. Morgan.
5 Nancy Webster.
6 The prompts for reflection: Things that you love to do, dramaturgically; things that you can't do dramaturgically, but with you could; things that you don't know how to do dramaturgically, but wish that you did.