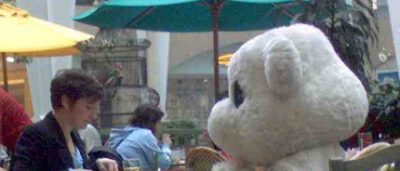 The Unsuspecting Audience
Pure Research 13 – Moynan King and Sherri Hay
Research focus
A continuation of Pure Research 8, "The Invitation", in which the focus shifts to the responses and actions of the larger unsuspecting world: observing if and when 'the public' becomes an audience.
Collaborators and credits
With Nightswimming's Brian Quirt and Naomi Campbell.
Photo documentation by Aiden Nagle.

December 13-15, 2007 at the Glen Morris Studio, University of Toronto Centre for the Study of Drama.
To explore additional research materials related to this project, visit pureresearch.ca.
Final Report