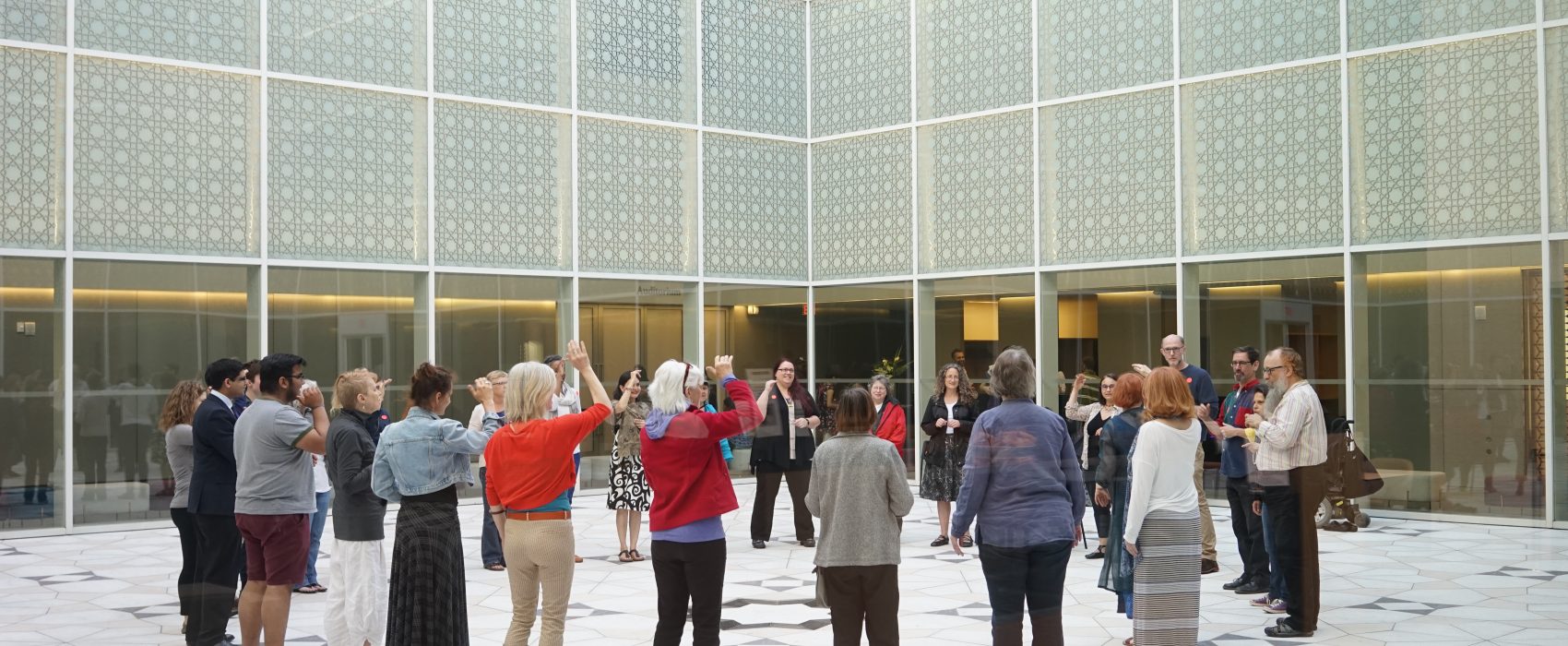 By Martin Julien and Brian Quirt
Why We Are Here! is a theatrical event in which the audience becomes a choir during the performance. WWAH! places the audience at the centre of a musical adventure that is different every evening, and that happens in a different venue each performance. Featuring choral leaders drawn from the community, WWAH! brings friends and strangers together to create a spontaneous theatrical gathering about right here and right now. 
Each performance of WWAH! is a unique, stand-alone experience. A choral leader begins by bringing the audience/participants together to sing. A 'hospitality break' follows that offers the participants a chance to get acquainted, explore the venue and refuel with tea and snacks; community is created through song and sharing. After the break, the evening culminates in an unexpected and moving way as a resident artist intervenes with their own theatrical surprises based on the music of the first half, the venue, site and often the events of the day.

Why We Are Here! can take place anywhere in a community, including but not limited to: museums, art galleries, parks, gardens, greenhouses, houses of worship, cultural centres, libraries or pubs (see below for the venues we enlivened with song). Locations, choral directors and resident artists are curated jointly between each presenting partner and Nightswimming, and are selected in an effort to represent the diversity, beauty, history, personality and future of the community. 
Production History
Dramaturgy and process
Why We Are Here! was born in a conversation between Brian and Martin following our work together on Blue Note. We each had musical ideas we wanted to pursue. Martin's involved choral trios and the vocal break; this evolved into The Wolf in the Voice. Brian's was about large choirs. Fascinated by the dynamics of community choirs, Brian wondered how Nightswimming could investigate this arena of social interaction, and in keeping with Blue Note, wanted to incorporate the audience even more deeply as participants.
I'm not much of a singer – in fact I fear singing, like a lot of people – but I love the sound of a big choir and have long wondered about the types of people drawn to sing together. With WWAH!, we created the perfect environment to explore this curiosity.
Our dramaturgical process began in a similar place to Blue Note. We needed a choir. Rather than research existing choirs (though we did that as well), we decided with producer Rupal Shah to invite individuals to join us in a studio to sing; in essence, we created a new choir for each workshop session and conducted a series of experiments in singing and community each night. We decided to hire a different person as a choral director for each session, and thus we would also be exposing ourselves to different techniques in leading a large choir (our interest was, ideally, in groups of more than 20 people). We invited the choral leader to get people singing for about an hour, and in the second half of the evening Martin and I would set up dramaturgical experiments in singing or having the volunteers engage with each other and the material. Between the two halves, Rupal crucially proposed we offer hot beverages and snacks, and we watched with delight as the people who had arrived as strangers met and talked with one another. This was invaluable dramaturgical insight, often the most moving part of the evening, and ultimately became an anchor for the show it became.
We did many of these exploratory sessions over several years. Our interest wasn't in any specific product. Rather, we were seeking a form for what might become a show (or event), and to our own surprise, the form of these experimental evenings revealed itself to be what we were looking for. We started to structure the evenings more consciously: a first half in which a new choir leader makes a choir out of the group that are present; a break for everyone to meet and chat and become a community; and a second half in which we invited a guest artist to work with us to create something new using the music sung in the first half. In short, we created a container in which the basic elements were consistent each time but the contents were always completely different. This compelled spontaneity and made discovery and decision-making into central components of each evening.
We did many versions of this in various studios over the course of another year. At one point we invited designer Rebecca Picherack to attend, not with the goal of designing the emergent show, but to offer impressions and identify new opportunities. Her key comment was to urge us to now take WWAH! out of the studio and into the city. Our answer was yes, and in close collaboration with Rupal, we set up the initial 2013 run at five disparate Toronto sites and invited musician, singer, playwright Jani Lauzon to be our first guest (now called resident) artist. Her contribution was the final piece of the process…to focus on and respond to the land that we all live and work and sing on: that site is also place. 
Why We Are Here! immediately became about more than singing; it became about why and how we gather, how we sing, but also where we sing and how we contend with the places and sites we walk among every day.
Why We Are Here! is available for touring; please contact Nightswimming Producer
Gloria Mok for more details at: gloria@nightswimmingtheatre.com.
---
The Belfry Theatre has twice invited Nightswimming to facilitate Why We Are Here! as a special event during our annual SPARK Festival. Having sworn the first year that I would observe but not sing, I couldn't resist the simple act of hitting the same notes as my neighbours (kind of!) and becoming a part of the group – a community within our community. Our voices combined to create something larger than any individual – and, within these environments dripping with history and symbolism, there was an emotional reaction, both joyous and profound. This event celebrates what it is to be human and our need for community.

Michael Shamata, Artistic Director
I always came away feeling enriched and exhilarated. The opportunity to sing, to learn, and to explore new directions in vocal expression and its relationship to theatre has been a rare one. The intersection of vocalist, performer, and audience was explored in many different ways, with thrilling effect. This is a wonderful experience that reinforces the understanding that I came to in my childhood: that singing is something that naturally happens when people are brought together in an atmosphere of acceptance to share their own particular talents in the service of creating something new that is both beautiful and inspiring.

WWAH! Participant