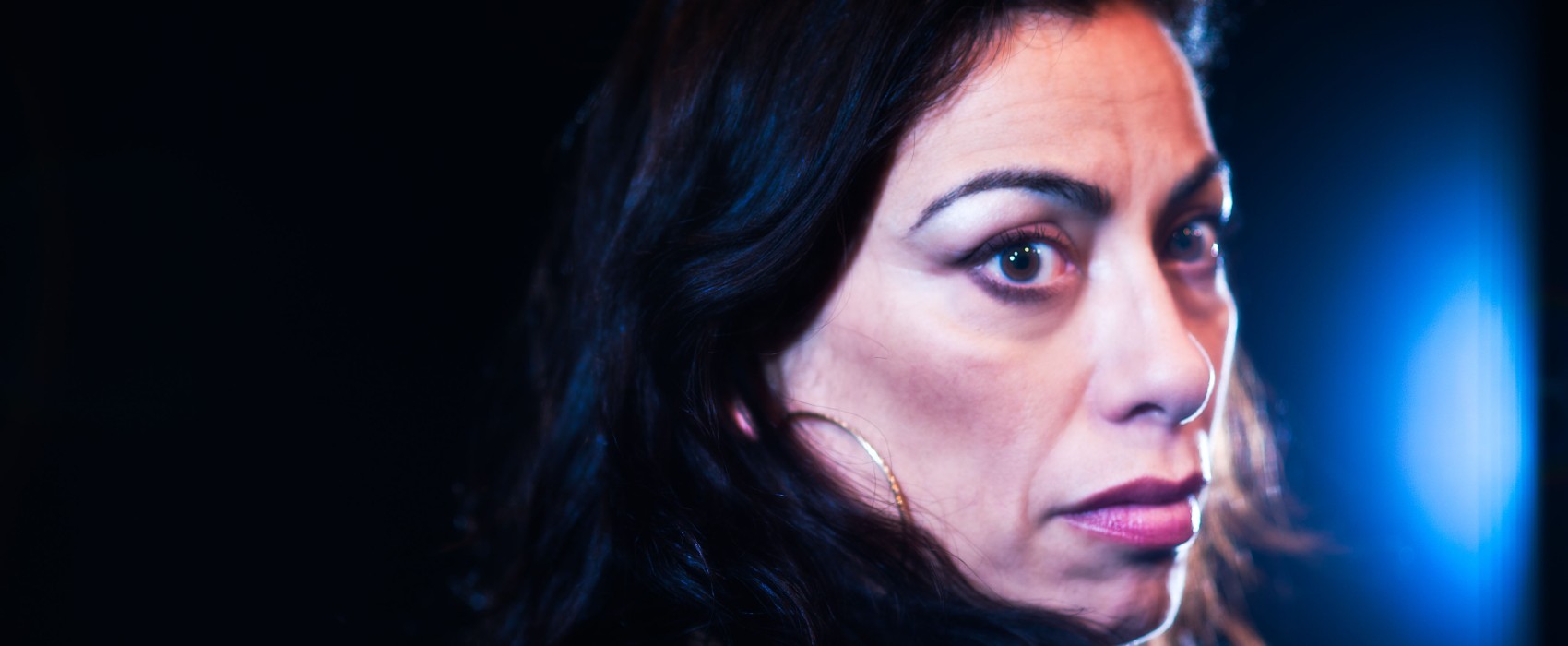 Blue Box
An intimate and sensual story of lust and revolution set in Chile, Los Angeles and Vancouver, Carmen Aguirre's Blue Box weaves together two stories: one from Carmen's underground work in the 1980s Chilean resistance movement; the other of a passionate and complicated relationship with a charismatic Chicano actor, each exploring how to get what we want when no one wants us to get it. Funny, sexual, moving and deeply political, Blue Box reveals a woman committed to a cause to which she could have sacrificed her life, and committed to a man who refused to sacrifice anything for anyone.
Carmen's story of terror, romance, fear and abandon takes us from the dangerous mountain passes of Chile to the dangerous roller coasters of Hollywood, from her passionate love affair with a TV star, to her passionate love for the revolutionary political movement that strove to free and change an entire nation.
Production History
Publication
Dramaturgy and process
Brian first worked with Carmen at Factory Theatre's CrossCurrents Festival on her play The Refugee Hotel. He later served as production dramaturg for its premiere with Alameda Theatre in Toronto. During that process, Brian had breakfast with Carmen in Vancouver and after hearing more than a few amazing and hilarious stories, said that he'd like to commission a new play from Carmen that would enable audiences to experience Carmen's stories like that, over a meal, casually and intimately. They pursued this idea, and Nightswimming commissioned Carmen to write what became Blue Box…though it was initially entitled Blue Cunt. 
Carmen too had an impetus: she wanted to write a piece that was entirely focused on the words; no spectacle, just performer, words and a direct immediate connection with the audience. With those premises as their foundation, Carmen wrote material that included stories of her underground work in 1980s Argentina, alongside episodic stories about Vision Man, a Chicano TV actor with whom she had a long term episodic relationship. 
Similar to my work on Such Creatures, my tasks as dramaturg focused on shaping the interaction between the two main stories, exploring the friction between them, how images and ideas and humour linked them, revealing nuances that would be otherwise invisible.
Developed through a series of public presentations, Brian and Carmen decided that in performance Carmen would be as close as possible to the audience, uncomfortably intimate, and that the audience would be invited on stage in several sections, for example to dance with Carmen halfway through the show. The moment that pulled the show together was discovered in workshop; a long silence in which Carmen looks every audience member in the eye, demanding that she – and they – contemplate the failure of the revolution for which she had risked her life.
Read more about Blue Box in 'Hot Tamale' and Carmen's Blue Box, an article written by Adrienne Wong about how the production was promoted, including issues around the title and branding of Carmen herself.
To learn more about the world of Blue Box, visit The Comrade Dossier. This micro-website is part of a five year initiative in which Nightswimming – with the generous support of the George Cedric Metcalf Foundation – to create show specific sites that complement and expand the audience experience of each show.
Blue Box is an unapologetic story of power, told with power. Its narrative bathes in it, bemoans the loss of it, fights it and fears it.

Monday Magazine, Calgary
Throughout the performance subtle lighting and sound sneaks in to support the story, but essentially, she carries the entire piece with little more than her voice and wonderfully expressive face. It's hard not to be engaged when she talks about her life 'in a country where cobwebs grow on your cunt'.

Mooney on Theatre