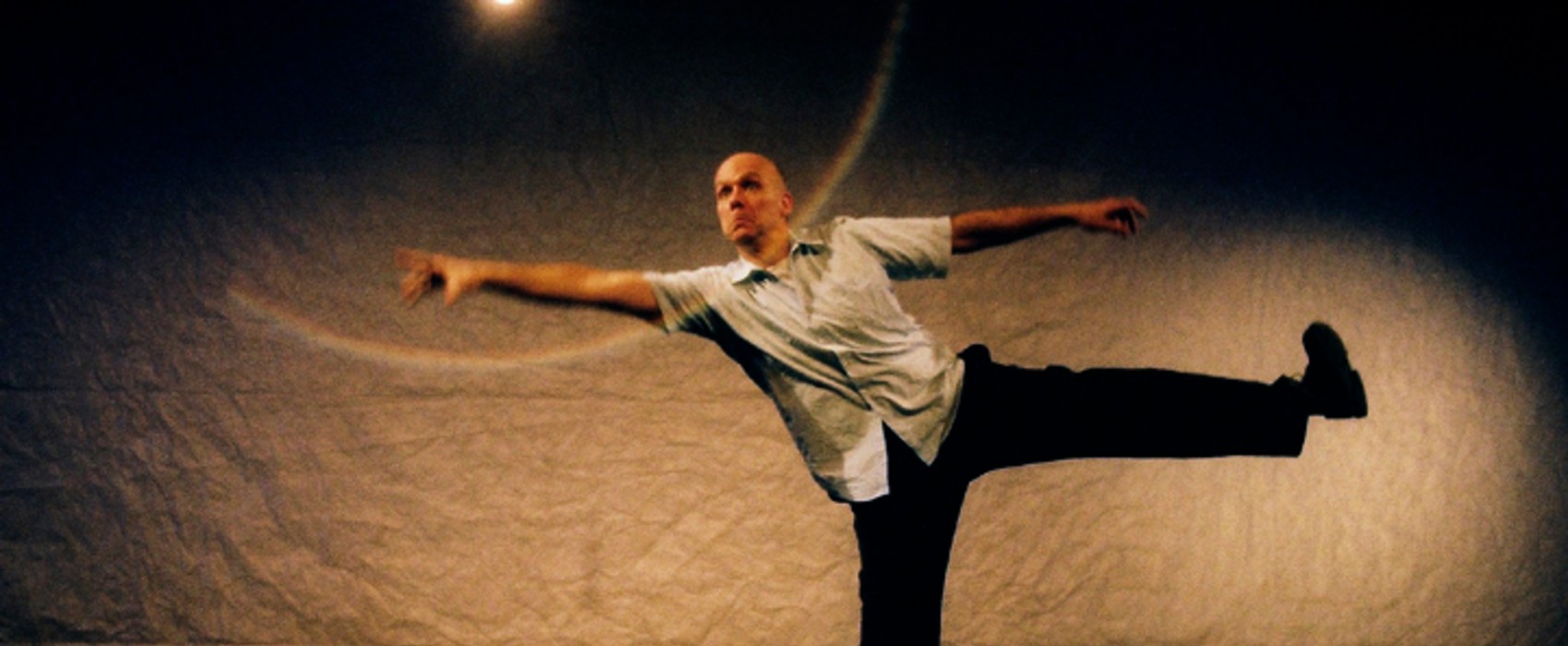 Rough House
Created and Performed by Andy Massingham
"Beckett meets Buster makes magic"…. This was the tagline we created to describe Andy Massingham's brilliant performance, paying homage to Beckett's profound silences and Buster's command of physical comedy. Rough House is a roller coaster of dance, slapstick and beautiful images, a comic yet wordless duet for performer and lighting designer in which light is a character, both the friend and the foe of Andy's persona. As Andy becomes more challenged by the objects and images that surround him on stage, surprising gestures and exacting physical movement tell the story of one man struggling with his imagination.
Production History
Awards and nominations
Dramaturgy and process
Rough House was commissioned by Nightswimming after Andy mentioned to Brian that he was interested in creating a show using everything he had learned about slapstick, pratfalls and physical comedy. Andy had developed brief performances using some of this material at the Tarragon Theatre Spring Arts Fair, and now wanted to work on a full length piece that combined a growing interest in dance that arose from Andy's role in The Whirlpool. Much of the work on that show with choreographer Julia Sasso was instrumental in the process we used for Rough House. In fact, Julia often joined the Rough House process to facilitate improvisational sessions and to offer her feedback as a dancer and choreographer. 
Rough House was created largely through improvisation; Brian and Andy generated scenarios, sometimes with props such as a chair found backstage at Factory Theatre, or a metal bowl from Andy's basement, or, and most importantly, a bare lightbulb hanging over the stage. Several critical creation phases occurred at the Theatre Centre with lighting designer Rebecca Picherack.
I asked Rebecca to improvise alongside Andy, adding a new lighting element each day and then asked Andy to respond to what Rebecca was doing to the room from the lighting board. The combination of lighting, physical comedy and music generated sections that I then structured into various sequences. I worked at all times to keep the dramaturgy about the experience of the audience; rather than telling a conventional story, we left space for the audience to find a story within.
A final workshop with public audiences and a full stage design was conceived to complete the work. The only way that a project created in this type of process can be completed is in performance, with the responses of the audience driving the final phase of creation. 
Listen to an interview with director Brian Quirt on the Hinterviews Podcast in December 2006, conducted by Peter Hinton, then the Artistic Director of the National Arts Centre. Thank you to Peter for inspiring us to create a shorter edition specifically for young audiences, which premiered at the National Arts Centre and later ran at Young People's Theatre.
---
This is physical theatre at its finest using the very simplest means to achieve one brilliant effect after another.

Eye Magazine
Using just a light bulb, bowl, chair and lighting, Massingham creates a series of funny, poignant and sometimes brilliant on-stage moments.

The Toronto Star
Lighting plays a key role in the hour long show, from the opening image of Massingham metamorphosing from a flowing shadow behind a white wall to a firm and sturdy person in front of it. That instant transformation from one state to another, from the intangibility of shadow to the three dimensional solidity of an object, is a token of the alluring charm of Rough House, directed with a playful, whimsical touch by Brian Quirt. The last moments, a magical shadow ride for chair, lightbulb and man, capture the cleverness of the show in miniature, leaving audiences absolutely still with wonder.

NOW Magazine