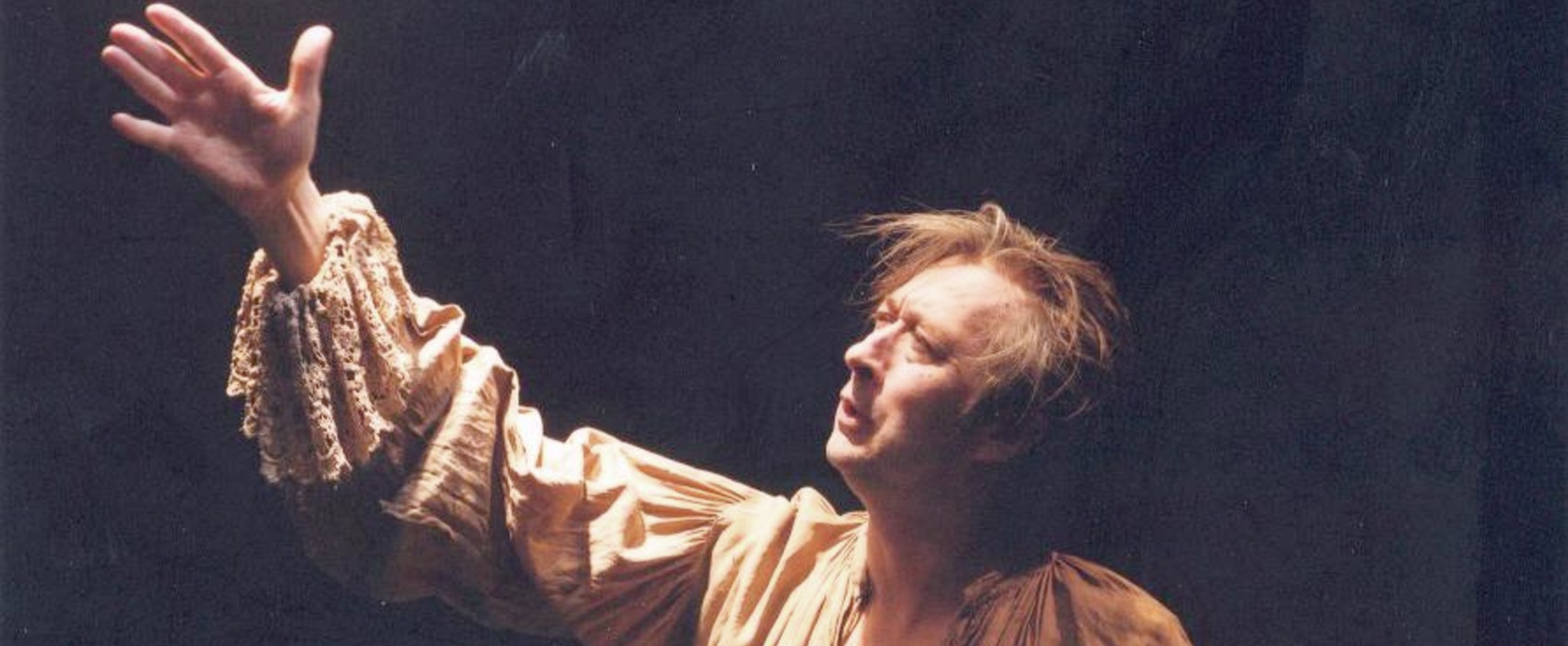 Through the Eyes
Through the Eyes tells the story of legendary sculptor Gianlorenzo Bernini's visit to France in 1665, through the voice of a courtier assigned to serve as Bernini's translator while the great artist carves a portrait of King Louis XIV. In a world where a casual glance or a careless remark can lead to death, the courtier steers Bernini through a maze of political intrigues and consoles him through his many disputes with the impetuous and wilful King. With an actor playing a dozen roles and single-handedly taking us back to baroque Paris, Through the Eyes is a play about seeing: about how a great artist offers a new way of looking at the world, and about how when we tell a story, we see new details and come to startling new conclusions about the story we think we know and our place within it.
Production History
Awards and publication
Dramaturgy and process
This play was Nightswimming's first project and first commission, and the reason the company was established. Initiated in 1994, Through the Eyes brought together dramaturg/director Brian Quirt with producer/stage manager Naomi Campbell to workshop and produce Don Druick's gorgeous solo play. Don sent Brian a first draft that was not conceived as a theatre piece, but was full of dynamic scenes, rich characters, and one of the most remarkable openings in Canadian theatre. As it evolved, it was clearly a story told by the Courtier, and 18 months of dramaturgical work, with multiple readings by actor Julian Richings, brought it to its production draft. 
For a dramaturgical company, Through the Eyes was the perfect first project. It features a rapturously beautiful text, and calls into question the truth of storytelling and the stories we tell ourselves because in order to survive we sometimes need to believe what isn't true. Don and Naomi were ideal partners for me as I honed my craft as a dramaturg and director, inspired by Don's words and Naomi's acute understanding of stagecraft.
After developing and successfully premiering the play in 1995, Nightswimming undertook a year of reconsidering its role as a producing organization. We ultimately decided to shift the company toward our strength as a home for investigating dramaturgy and redesigned Nightswimming as a dramaturgical company focused on commissioning new works rather than producing them. 
Following the success of our first production, Brian continued to promote the play and was thrilled that Factory Theatre mounted a new production in 2003, bringing Don's voice to a much larger audience. Factory revived it for a second run in 2004 prior to touring to the Magnetic North Theatre Festival in Edmonton and the Thousand Islands Playhouse.
---
As befits its baroque subject, Druick's script is vivid and delicate, a sensitive and sensuous piece of writing alive with colour and texture, its images polished like marble until they gleam. NNNN.

Now Magazine, 1995
Richard McMillan's performance… is one of those special marvels that exist only in the live theatre.

Vue Magazine, 2003