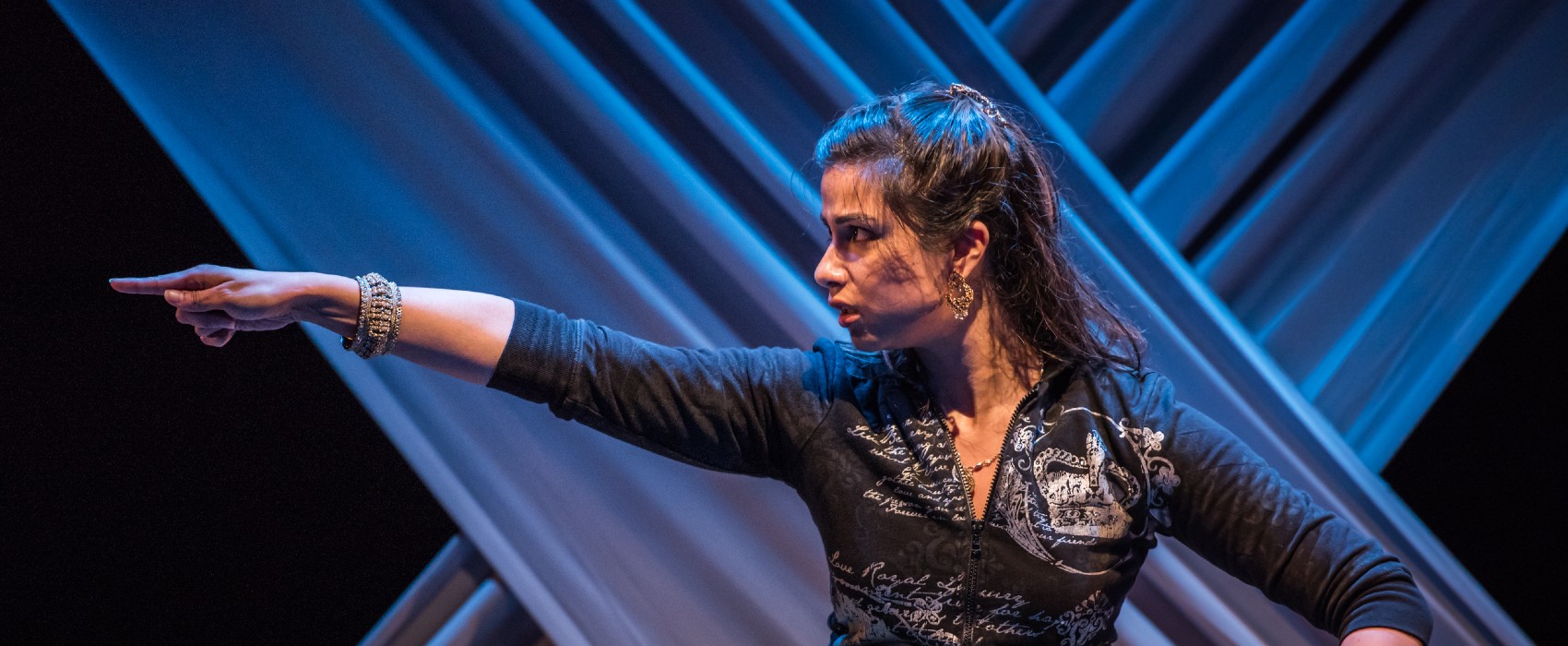 The Fish Eyes Trilogy
Anita Majumdar's The Fish Eyes Trilogy is an audacious trio of interwoven stories about the lives of three young Canadian women – Naz, Candice and Meena. The Fish Eyes Trilogy is set in a Canadian high school where cultures collide, women struggle for status, and dancing raises the temperature of every moment.
Boys With Cars: Act 1 fuses classical Indian, Bollywood and hip-hop music and choreography, telling the story of Naznin, a classically trained dancer who dreams of leaving her small town for the bright lights of the city. It tells her heartbreaking love story with Lucky Punjabi and collision with school power couple Buddy and Candice. A coming of age piece with tremendous comic flourish and potent dances, Naz's story is a window into the lives of Canadian South Asian teens.
Let Me Borrow That Top: In Act 2, Anita portrays the character of Candice, Naz's blonde-haired nemesis. Performed in white-face, in the style of a YouTube makeup tutorial, it is a bold, innovative and wildly funny take on teenage obsessions that tells the full story of Lucky and Buddy and how their lives ensnare both Naz and Candice in a world of boys with cars.
Fish Eyes: Act 3 focuses on Meena and her own passion for Buddy, the school's most popular boy. Taking us from a life changing school assembly in which Meena and Candice dance to Beyonce's "Survivor" to the all important end of year grad dance, Fish Eyes to bring the trilogy to its powerful and beautiful conclusion.
Production History
Awards and publications
Dramaturgy and process
Working on The Fish Eyes Trilogy with Anita constituted a journey of more than seven years since she first shared material with Brian and Producer Rupal Shah at the Nightswimming office in 2011. At the centre of that journey has been the beauty of watching a conversation between plot, character, dance, setting, music, image, performance, and performer evolve across three complex, interlocking stories. In the process, the trilogy became a single, epic play anchored by a remarkable performance from Anita herself. Anita's journey with the plays has been much longer, stretching back to the creation of its first part, Fish Eyes, more than a decade ago at Montreal's National Theatre School with classmate and director Gregory Prest. That play and its charismatic performance introduced many of us to Anita and contributed to a vital and important blossoming of South Asian Canadian theatre artists.
In early 2012, during her tenure as our playwright-in-residence, Anita read us a first draft of Boys With Cars, bringing to life Naz, another teenager struggling with the straitjacket of high school in Port Moody, BC. This was a critical moment in the trilogy's development as it began to reveal that the school assembly that appears in Fish Eyes would become the central event of each of the three plays. That assembly binds Meena, Naz, and Candice in ways that none of them fully realize but ultimately offers the audience a challenging, painful, cathartic, and unexpected window into women negotiating a pathway into adulthood. We loved Naz's voice, and the new voice that Anita herself was discovering as a playwright. Nightswimming commissioned the play and committed to developing it with her.
As the new play evolved, the school gym that appears twice in Fish Eyes reappeared as a battleground in the final scene of Boys. And as it did, a third play began to take shape for Anita, unexpectedly tackling the hidden truths of Candice, nemesis of Meena and Naz, who has her own villains to fight. Once again, we commissioned Anita and she dove into language, also finding a new vocabulary of image and physicality in the form of the YouTube makeup tutorial. As Let Me Borrow That Top took shape, our dramaturgical task was to align the chronology and events and locations of three stories, pushing us backward to a revision of Fish Eyes, deeper into Boys, and then forward to further refinements of Top that made Candice's story inevitable but no less tragic.
With the three individual stories now alive, we produced a work-in-progress presentation of the full trilogy in 2013, complete with an Indian meal during intermission. Several presenters attended and following a residency at the 2014 Banff Centre Playwrights Lab to further refine the storytelling across the full trilogy, a premiere national tour came together, with the Banff Centre offering added support as the co-commissioner of Let Me Borrow That Top.
The dramaturgical process has been a delicate dance between text and movement, from conversations between playwright, dramaturg/director, and producer about what happens to which woman in which play, to studio sessions in which Anita found the physical life of each teen and choreographed dances unique to each.
Public presentations and touring have been critical to the evolution of the trilogy, as contributions of all members of the creative team to the production and the audiences to whom we told these stories inspired Anita to further refinements of the text.
Throughout these many workshops, readings, residencies, and rehearsals, the vision driving us forward was the idea of presenting the three parts as a single performance with two intermissions, a dream ultimately realized at Victoria's Belfry Theatre on March 15, 2015. This run affirmed all of Anita's instincts about the layers of her storytelling, the power of the body to convey emotional complexity, and the magic that a solo performer can weave. The Fish Eyes Trilogy insists that we listen with our eyes, hear with our hearts, and see the other in each of us.
---
NNNN. Majumdar, who performs all the roles, has written an exciting and scarily true tale of teen male machismo, and of the young women, first disbelieving and trying to ignore how they're viewed, who finally find means to empower themselves. The production is sometimes funny, often upsetting and filled with dance and the gestures that accompany it. Majumdar makes fine use of those gestures during some of the dialogue, emphasizing and giving fire to each speaker's points. I don't think I've ever seen such pent-up anger on the stage of Young People's Theatre. It's totally appropriate and dramatically real.

Jon Kaplan, NOW
Dance, theatre and social commentary combine with expert choreography, glittering costumes and a dark underbelly to reveal a different, and necessary, side of the Canadian multi-cultural dialogue.

Janis LaCouvee, Victoria, BC
Anita Majumdar has written vividly about the sexual pressures on teens in this bold, unsettling play. She creates a victim of bullying who does not cave and she creates a bully with whom we have compassion. Stunning.

The Passionate Playgoer, Toronto