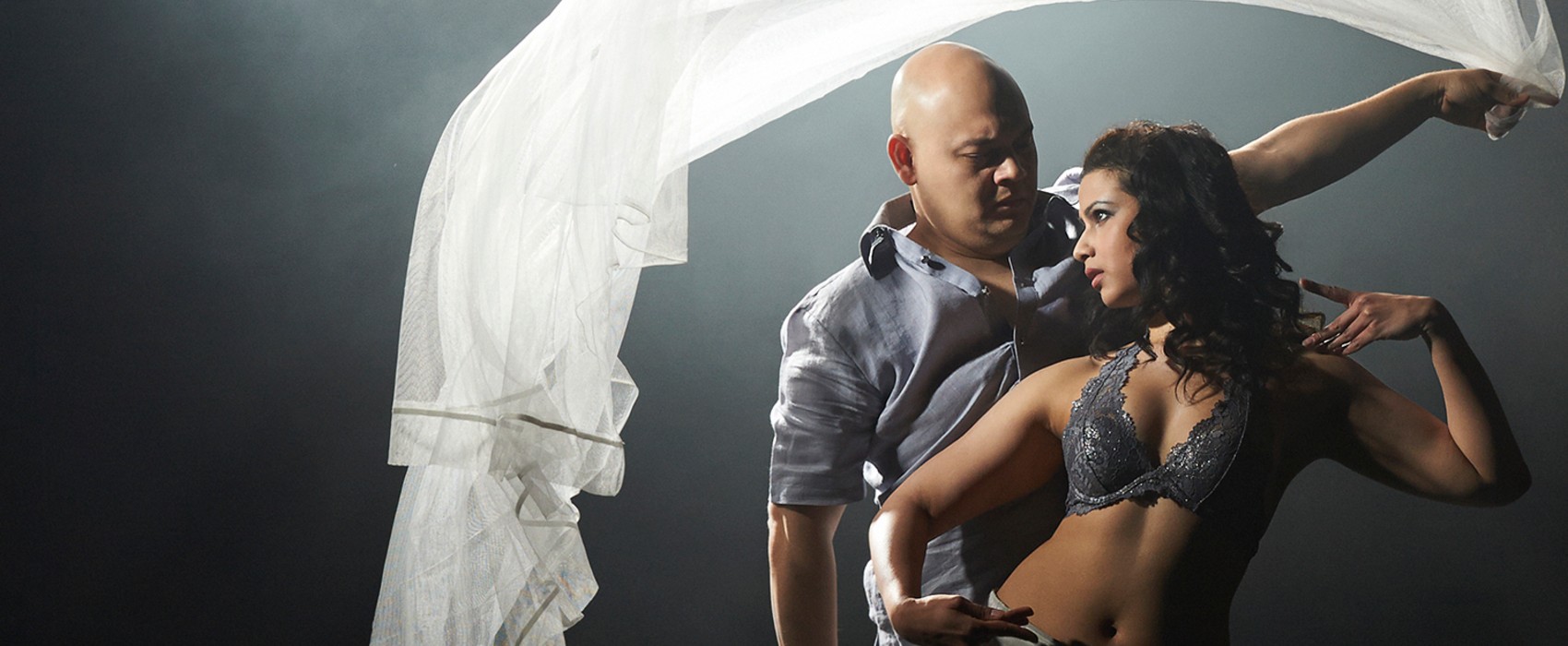 Same Same But Different
Featuring original Bollywood dances choreographed by playwright Anita Majumdar and adaptations of contemporary Bollywood songs by Suba Sankaran, Same Same But Different is a provocative and entertaining exploration of shadism and gender politics – with a hot romance! In keeping with Bollywood tradition, we often use a playful acronym for this theatrical hybrid: S2BD.
ACT 1 is set in Bombay, 1989, where Kabira is days away from an arranged marriage with her light-skinned husband-to-be, who will soon be taking her to Canada. A singer of commercial jingles, she's dreamed of recording songs for Bollywood films and as the wedding day approaches, she finally has a chance to live her dream. She's hired to record songs with Felipe, who is on the cusp of leaving for the Philippines to join the People Power resistance. In the Bombay recording studio, Kabira and Felipe have a life-changing collision (and fleeting romance) before they go their separate ways for good.
ACT 2 is set in present day Vancouver on the set of a Bollywood movie starring Kabira's daughter, Aisha, a young starlet obsessed with preserving her light skin tone, and Ben, a Filipino-Canadian background dancer obsessed with breaking into Bollywood. On the final day of shooting, Ben is promoted to play Aisha's love interest, while the film's director berates Aisha for her performance and appearance. How fair-skinned must she be, to herself, her director, her fans and especially her demanding and sharp-tongued mother? Romance blossoms but can the two performers overcome their prejudices and all the obstacles of a Bollywood love story to commit to one another? Will Aisha have the romance that her mother never did?
Production History
Nominations
Dramaturgy and Process
This piece originated, as do many of our commissions, in exploratory conversations between Brian and an artist whose work intrigued him. Brian had seen an early version of Anita's Fish Eyes, and while she was performing in our production of Bombay Black, asked what she was imagining as a future writing project. Anita's goal, initially, was a one act piece about Aisha set on a North American Bollywood film set. We commissioned it and Brian worked with Anita to develop scenes simultaneously with her choreographing dances to songs she felt would live in the show. 
This Nightswimming commission received two workshop productions, and a series of developmental workshops during which the extensive choreography and musical sequences were created and refined. Fusing the writing and choreography processes so that they inspired and complemented one another was a huge and exciting part of the dramaturgical landscape of this project.
Following a Vancouver workshop production of the one act play, Anita conceived of a companion story about Kabira, set in India in a different era but exploring some of the same topics through the lens of attitudes toward women in that time. Throughout the development process, the dramaturgy was as much about dance and music as it was about text, with Brian learning about Bollywood motifs, gestures, history and gossip in order to provide helpful input to Anita.
The two act play benefited from a co-production with a few weeks between the two runs. Following the Toronto run of the premiere production, a significant revision of the text was developed by Anita and Brian. The break enabled the creative teams – in the best possible way – to learn from the first run and then adjust text, performances and design elements for the Calgary run…yet another reminder that patience and a long term process is key to creating strong work. The play and production truly came together in Calgary with a diverse audience that was extremely satisfying.
---
Anita Majumdar wrote the show, and is front and centre throughout, and she lights the Big Secret Theatre up like one of those Times Square neon billboards. She's a fabulous dancer and Same Same But Different director Brian Quirt exploits Majumdar's extraordinary dancing chops for maximum impact in Act 1. She's also basically got the instincts of a class clown — she's a little bit Mindy Kaling blended in with Rachel from Glee (and Beyonce) — and Same Same crackles with laughter, when Majumdar and Nicco Lorenzo Garcia aren't shaking up a theatrical storm inside the Big Secret Theatre.

At the core of it all is an honest, painful exploration of race shaming that is central to Bollywood casting, where dark-skinned performers get downgraded compared to lighter-skinned ones.

Calgary Herald