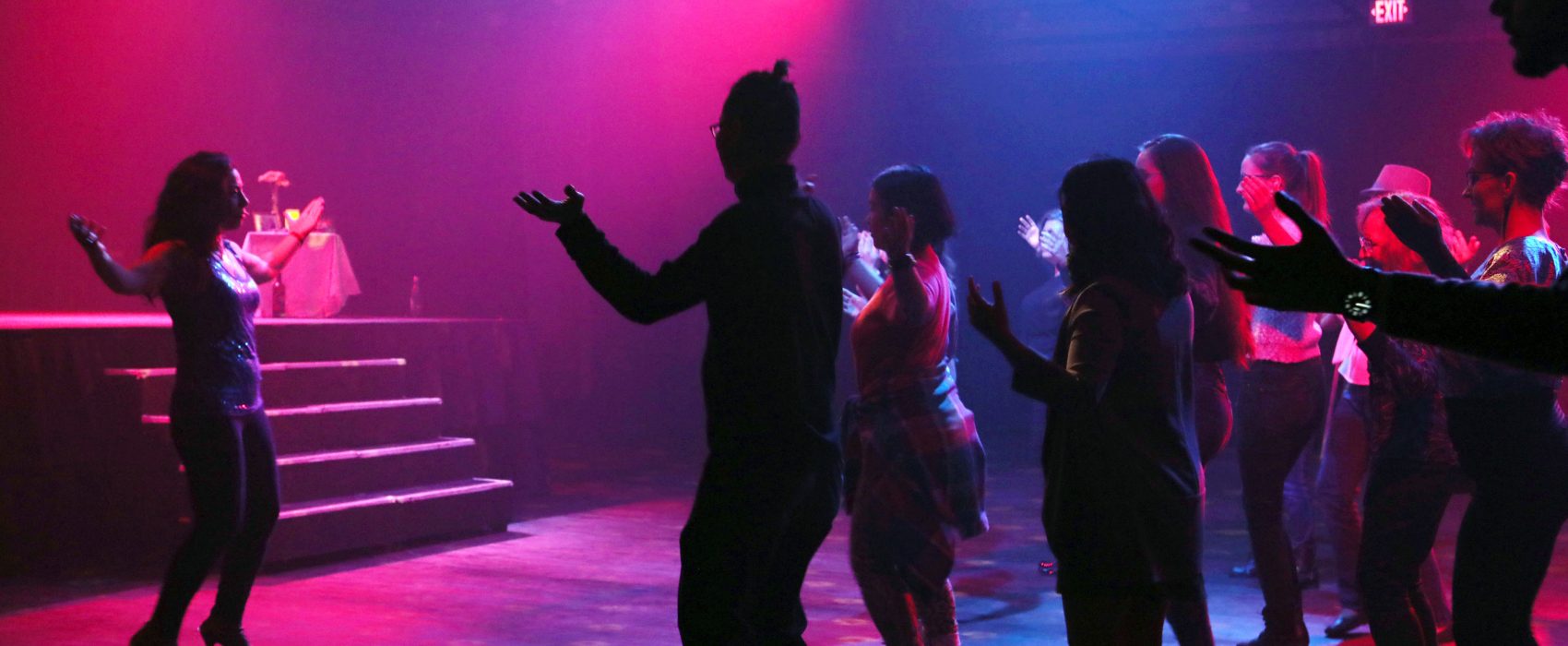 Daring, sexy, and, above all, fun, Broken Tailbone invites the entire audience into an extended salsa dance lesson that flows seamlessly into Carmen's remarkable stories of intimacy, politics, culture, the forgotten origins of the salsa…and how she broke her tailbone.
Carmen's Latin American dance lesson also includes the merengue, twerking and much more, woven with hilarious stories of her experiences in the hidden world of Canada's Latinx dance halls. Everyone in the audience dances as the evening swiftly transforms into one of the dance halls Carmen vividly describes (in English and/or Spanish), bringing us deeply into one of Canada's most unique milieus. Her onstage partner DJ Don Pedro creates an irresistible musical environment to get even the most reluctant dancer up on their feet as Carmen traces the history of Latin American migration to Canada through 40 years of Latinx dance music.
Production History
Dramaturgy and process
Broken Tailbone evolved out of Carmen and Brian's work on Blue Box, which features a dance break at its half-way point in which Carmen dances onstage and invites audience members to join her. And they did…but they didn't always know how to dance. At one show, Brian watched as Carmen taught two young women the basics of the salsa during a single song, and an idea was born. During Blue Box rehearsals, Carmen had described the history of the salsa and other Latin American dances…and the combination of that largely unknown history (at least to much of Canada) with Carmen's wonderful ability to teach dancing, led Brian and Rupal to propose to Carmen that Nightswimming commission a new piece that takes the form of a dance lesson.
Carmen came back to us with the idea of making the content of the lesson the history of the dance halls, starting with the very first Latinx dance hall in Canada founded by her parents in 1970s Vancouver. Rather than beginning with writing, we asked Carmen to assemble a playlist of her favourite dance music and we headed to the studio. We listened to more than 100 songs, Carmen showed us the dance for each (and got us up on the floor), and told stories that related to each song–sometimes her own experience of dancing to it, or the political content of the lyrics, or the importance of the artist in the musical or political terms, or how it relates to Latin American geopolitics and patterns of Latinx migration to Canada, and always returning to the dance halls where Latinx communities continue to gather to dance.
I like that the show is unabashedly political, that its politics are left wing, and that there's real risk taken in some of the stories I tell. I like that those stories are dangerous, including the political ones, so that tells me we're on the right track. If there's no fear, there's no art.
Carmen Aguirre
The piece was created almost entirely improvisationally, with DJ Matchetero and later DJ Don Pedro. As with Sad Songs, we created a score for the show structured on 15 songs selected for their variety of national origin, the dances they require, and Carmen's stories for each. The 'text' for the show was never written down; Carmen repeated stories and we adjusted for content and duration (they had to fit into each song) but it was vital that the telling be and feel spontaneous, and that Carmen feel free to interact with the audience without undercutting the storytelling. We used public presentations with Toronto's Aluna Theatre, Vancouver's Playwrights Theatre Centre and the Banff Playwrights Lab as crucial tests of the idea. Early runs at Vancouver's Uno Festival and Los Angeles' Latino Theatre Company were essential to the development of the show as we invited designer Michelle Ramsay to design the lighting and the audience-performer relationship in the space. We worked through dramaturgical questions such as….
Would the audience dance? Yes…Carmen is both welcoming and commanding, and we worked with Michelle to create lighting and room design to support this. Could we balance dance, music, storytelling and politics? Yes…but it took a lot of tweaking to make the stories concise enough to fit within each song, and even more technical work to balance the sound level of music and voice in performance. What was the personal connection with Carmen that could be the all important core of the audience's experience? That turned out to be Carmen's vulnerability, expressed as her need to have this music, this community and these dances to help get her through many challenges, and the tantalizing story of her broken tailbone that frames the show.
Explore the world of Broken Tailbone at brokentailbone.ca by following Carmen's footsteps and tells a special story just for you. This micro-website is part of a five year initiative in which Nightswimming – with the generous support of the George Cedric Metcalf Foundation – created show specific sites that complement and expand the audience experience of each show.
Broken Tailbone is available for touring; please contact Nightswimming Producer
Gloria Mok for more details at: gloria@nightswimmingtheatre.com
---
Wear comfortable shoes and dance if you're able for as long as you can; surrender to the life force at the heart of Carmen Aguirre's theatrical revolution. NNNN

NOW Magazine
Carmen Aguirre's kinetic Broken Tailbone is part salsa lesson, part political and personal memoir – and all sweaty fun.

The Globe and Mail
It's a far cry from your usual Rec Centre salsa class. Aguirre sets herself up as an irresistible, incontrovertible Jefa (feminine for "Boss") who reinforces her directives with a background discourse on the etiology and symbolism of every dance step.

Vancouver Observer
Broken Tailbone is a visceral, sensual dance of resistance. Aguirre's a vibrant, no-nonsense, innovative artist who beautifully and generously demonstrates the power of radical resistance through dance, music, and developing deeper connections to our bodies, broken tailbone and all.

The Georgia Straight