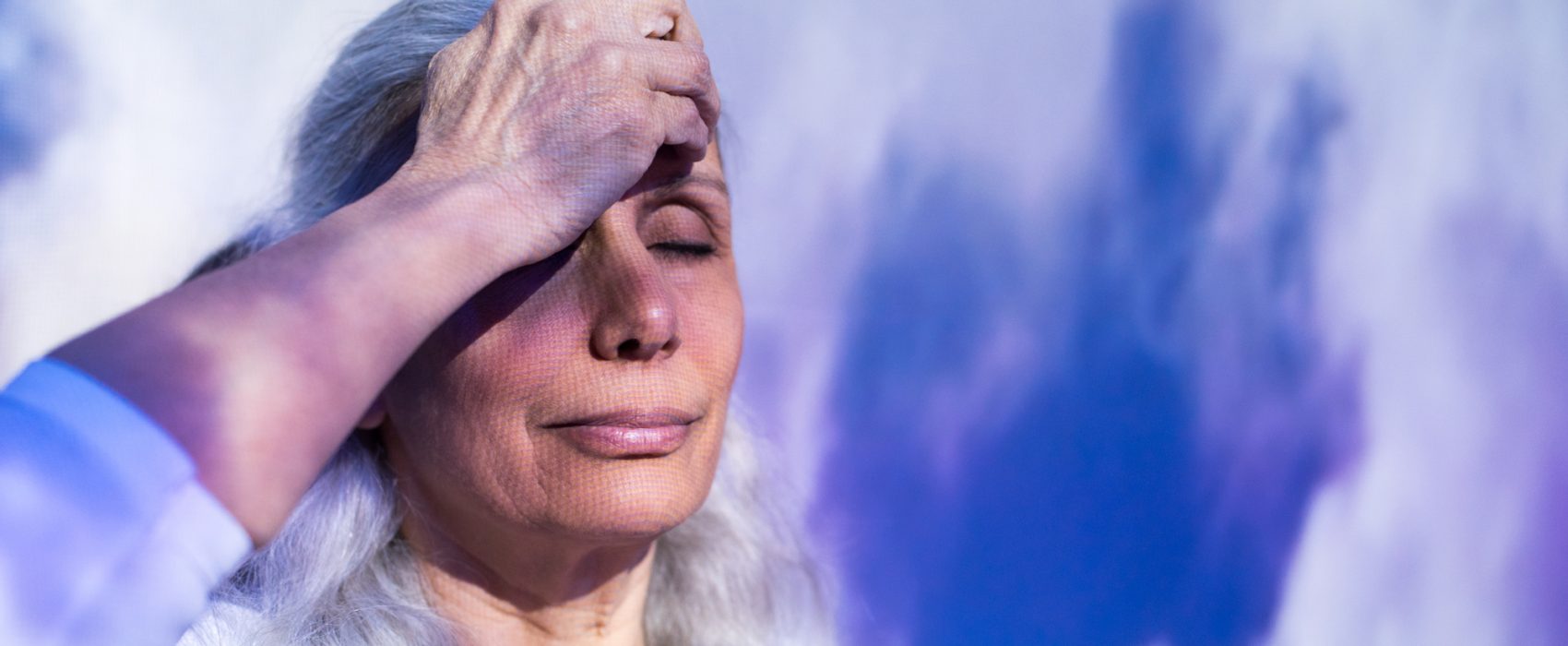 Prophecy Fog begins with an expedition into the Mojave Desert in search of Giant Rock, armed with the question: can a site still be sacred if it has been desecrated? Jani's journey expanded to include pockets full of stones, the rainbow warrior's prophecy, and an inscription she discovered in one of her mother's books: "We come from the stars, we are star people."
Once home to sacred ceremonies, UFO conventions and Howard Hughes' favorite restaurant, Giant Rock now stands covered in graffiti and surrounded by broken bottles. In Prophecy Fog Jani weaves together the performance skills of a veteran theatre maker whose abilities as an actor, singer, musician, storyteller, playwright and dancer draw an audience of 50, seated around her in a circle, into her voyage to Giant Rock and the ancient prophecies it inspired. 

Production History
Awards and nominations
Dramaturgy and process
Nightswimming has a long-standing interest in solo performance, choreography, design and music, and with many of the ideas – theatrical, cultural and political – that Jani is exploring in Prophecy Fog. Brian and Jani have worked together since the early 1990s on various projects, and they reconnected as dramaturg and playwright in 2015 when Brian invited her to be playwright in residence at the Banff Centre Playwrights Lab. One of the shows Jani worked on there was Prophecy Fog. 
I was intrigued not only by the adept mixture of personal stories and Jani's exploration of prophecy, but also by the intimate form of the piece that Jani was constructing. The piece is unlike anything I'd seen on Canadian stages. It is ambitious on every level in terms of personal and familial storytelling; its use of video and music; the central place of design and the role of the audience inside the world of the piece; and in its delicate yet determined approach to exploring ceremony and ritual in ways that are sensitive, creative and challenging.
Nightswimming invited Jani to be Nightswimming's Creator in Residence in 2017/18 and 2018/19 to continue her process on the show, in collaboration with the Theatre Centre and its then Artistic Director Franco Boni, who was working with Jani as the show's director. These residencies enabled us to extend an important creative collaboration in support of Jani's investigation of ritual and ceremony. 
With Nightswimming, Jani focused on the text of the piece; with Franco, she focused on in-studio creative sessions in which hundreds of rocks and two crystal singing bowls were central to the process. Designer Melissa Joakim was present at all of the studio sessions, slowly evolving the design of the playing space in which Prophecy Fog ultimately played. Melissa also traveled with Jani to Giant Rock for further research and to record the video footage that plays a vital role in the performance. And as we progressed, Jani's investigation of how ceremony can live ethically in our performance spaces grew to be a vital question. 
During the process, director Franco contributed throughout to the dramaturgy of the script, supporting Jani as she investigated the many layers of storytelling she was immersed in. Brian, as dramaturg, similarly contributed throughout to the design and staging process. The entire creative journey through multiple studio sessions from 2017 through to the premiere in 2019 was wonderfully collaborative, inventive, and demanding. 
We're delighted that Jani's company, Paper Canoe Projects, has created a touring version of Prophecy Fog – with a slightly adjusted design – that will appear at numerous theatres in Ontario, British Columbia and the Yukon in 2023, bringing this potent show and Jani's mesmerizing performance to a much wider audience.
Prophecy Fog is available for touring; please contact Nightswimming Producer
Gloria Mok or more details at: gloria@nightswimmingtheatre.com
---
Jani Lauzon's new play Prophecy Fog is technically a solo piece, but she shares her small, circular set with thousands of co-stars that, throughout the show, spread out and surround her. Lauzon's connection to rocks and stones, which she explains in the play has existed since childhood, eventually brings her to see the Mojave Desert's Giant Rock, a free-standing boulder that stands seven storeys high. And even though they look like normal stones at first, by the end of Prophecy Fog, Lauzon has convinced you of their sentience and agency — they have memories and stories, they're both of the earth and sky, they grant permission to be taken and transported from place to place, they're loud and, and as Lauzon points out in her first line, even have faces.

Toronto Star
NNNN. Prophecy Fog will forever change how you look at stones and rocks. Métis writer/performer Lauzon's autobiographical solo show recounts her history with them. Her mother taught her that if you rub a stone in your hands you can hear its stories. Audience members sit in a small circle on chairs or cushions; in the middle are hundreds of stones, everything from hefty rocks to tiny pebbles, many of them placed in wooden bowls, which Lauzon upends to illustrate certain scenes. One of the most telling moments is when she uses smooth white stones to represent the white people co-opting the Indigenous ceremonies around Giant Rock. Prophecy Fog is a mesmerizing solo show about the stories rocks tell.

NOW Magazine