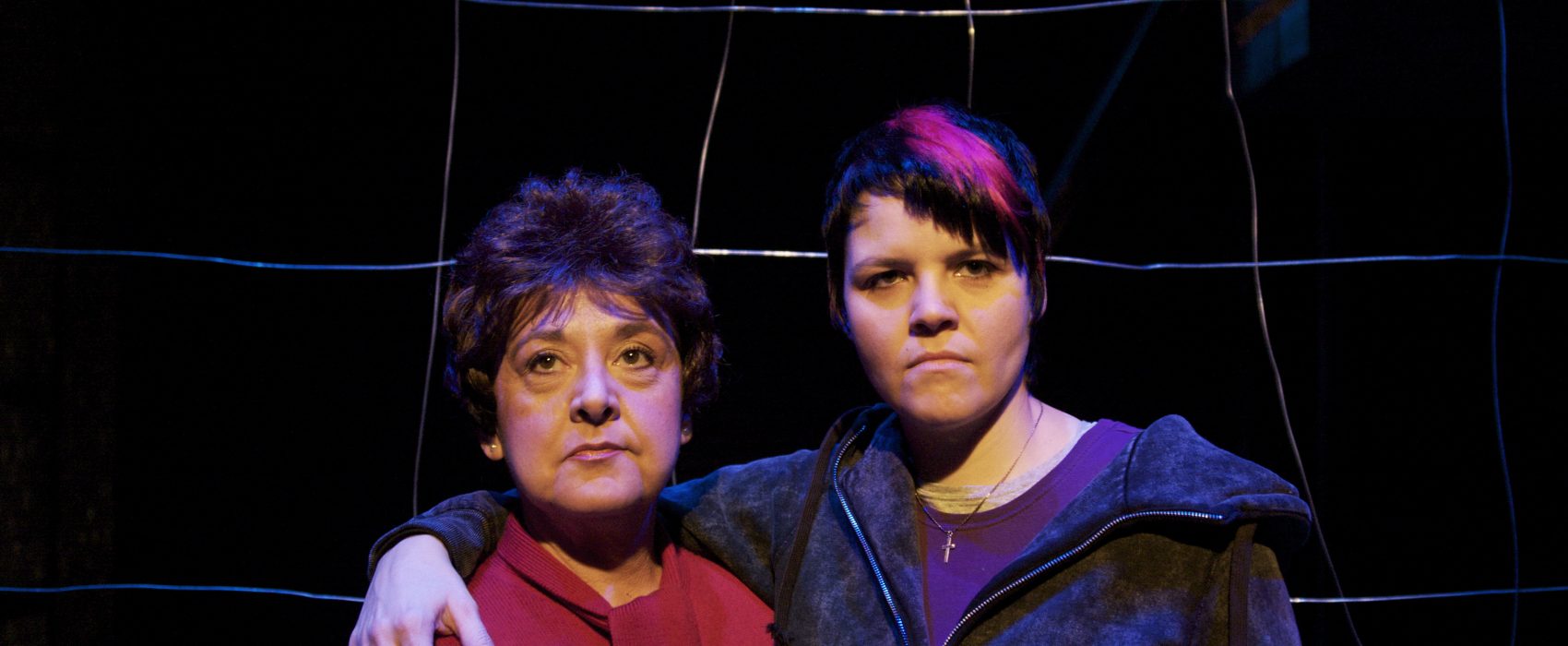 Such Creatures
Such Creatures weaves together two deeply-linked monologues each showing the astonishing courage and resilience of young human beings during earth-shattering moments. Each introduces us to a fifteen-year-old girl: Blandy speaks to us from contemporary Toronto; Sorele, from Auschwitz, 1945. Thanks to their shared love of Shakespeare, each young woman believes in miracles when there is almost no hope and finds humour when there is nothing but fear. Such Creatures is a beautiful and demanding addition to Judith's body of work, a nearly perfect piece for two exceptional actors.
Production History
Awards and publication
Dramaturgy and process
Nightswimming first commissioned a new work by Judith some years prior to working on this play. That piece didn't come together, so Brian and Judith agreed to wait until another idea asserted itself. A few years later, Judith approached Brian with a proposal. She wanted to work with a collection of neutral masks that she used in her acting classes. She was seeking a place where she herself could use them to explore character creation and improvisation, and to return to her own roots as a performer. She suggested that Nightswimming might be able to provide a place to conduct these experiments away from the pressure to write a new play. She was right. 
We were happy to offer Judith extended studio time and the privacy she needed to work with these masks and see what, if anything, would happen. Her first sessions were effective, so we arranged a second set of studio days. In these, Brian would join at the end of each session to meet and talk with whatever characters Judith had created that day. Long conversations often ensued between Brian and a whole host of individuals… and among them was a teenager named Blandy. Her voice came through vividly, so Judith decided to focus her energy on Blandy and the story she was demanding be spoken. 
Nightswimming is always working at the pace of the artist, rather than out of a need for material to fill a future season. This process with Judith encouraged us all to be patient; we're a very patient company in any case, but this show reminded us once again that time combined with a thoughtfully designed process can empower an artist to create in new and exciting ways.
Nightswimming set up workshops of the evolving text, we heard it aloud with actors of different ages, and we set up a partnership with Theatre Passe Muraille to continue the play's development toward production. Then Judith asked to pause; Blandy is an amazing character, but Judith wanted to explore a second voice, not necessarily in the same time and space as Blandy. Her explorations led her, eventually, to Sorele and the story of the thwarted rebellion in Auschwitz. This is harrowing material, but Judith dove in and much of the rest of the process was examining ways that the two stories could be woven around each other, complementing each other, and, in a wild discovery within a workshop, ultimately merging across time. That moment changed everything, and the play surged toward production.
Nightswimming and Theatre Passe Muraille were especially excited to welcome Judith back to TPM's Backspace Theatre thirty years after her first work, The Crackwalker, burst onto the Canadian stage in that very same space.
---
Such Creatures confronts audiences with pain, rage, fear and unimaginable choices. Thompson handles the harshest realities of human existence with sensitivity, artistry and always hope. Such Creatures strikes a graceful balance between accessibility and thoughtful, political theatre. The play is flawless.

Plank Magazine
NNNN – Shakespeare's words offer comfort, hope and ultimately survival to two seemingly dissimilar teens in Such Creatures. Cast as the title character in a non-traditional version of Hamlet, Blandy finds personal meaning in lines like "the readiness is all" and "I defy augury." Sorele, who played Miranda in a school production of "The Tempest", realizes that her jailers treat the Jews as despicable Calibans; she draws a positive, rebellious anger from elsewhere in the play's text.

Though the two come from such different backgrounds – Blandy has known a lifetime of abuse and violence, Sorele comes from a privileged household – both characters talk about horrors but in distinctive ways. The older Sorele looks back over a 40-year gap to the experiences of the 1940s; her anger and energy are colder and more focused as it streams through her memory. Blandy is living with her suffering, and the result is a hotter fury and a jittery tension, an uncertainty of what the future will bring.

Director Brian Quirt adds a few staging surprises, but generally he allows his two fine actors simply to feel the intensity of Thompson's words and share them with the audience. Every moment resonates with feeling, not least because neither playwright nor performers judge the characters for their weaknesses or heroicize them for their strengths.

Jon Kaplan, NOW Magazine