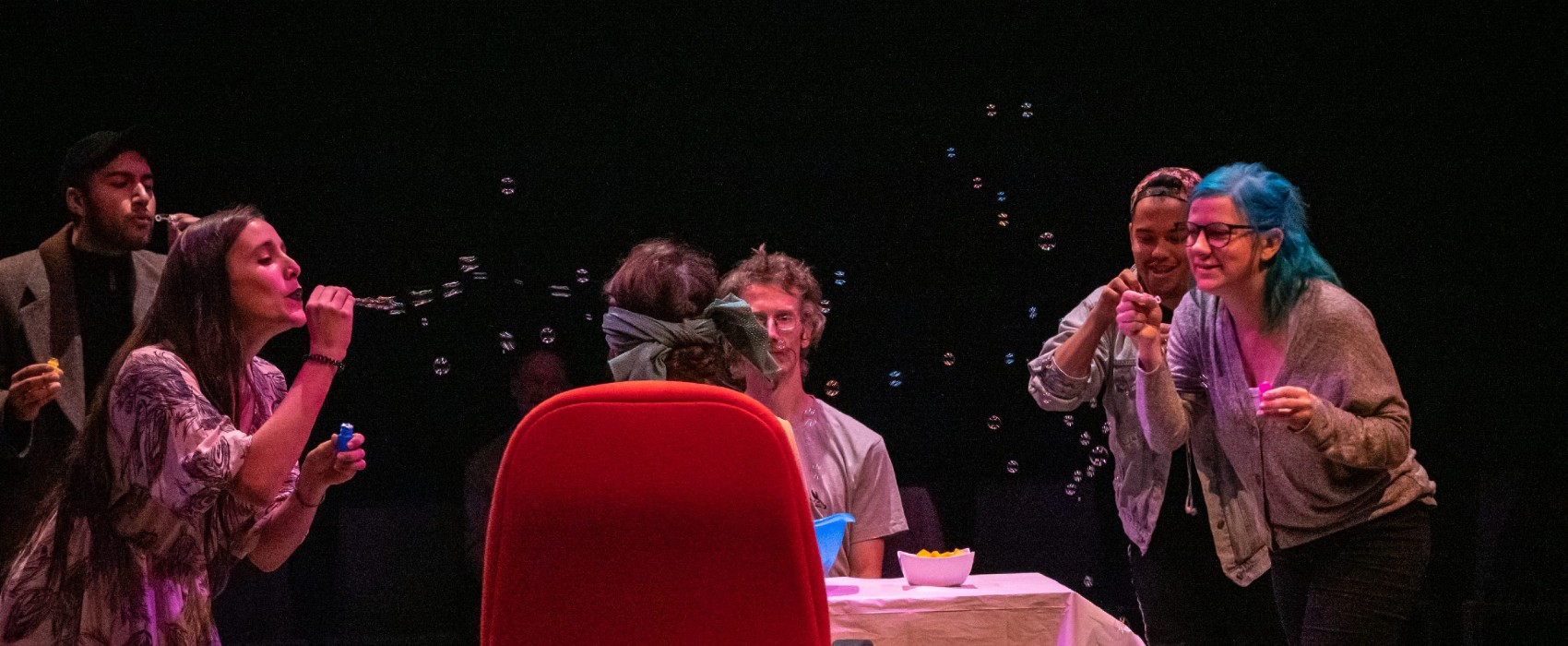 xLq
Creator-in-Residence
xLq joined Nightswimming for a creation residency in 2021/22 to develop All for One for All. Funded by the Ontario Arts Council and Nightswimming, the residency offerred xLq studio space and dramaturgical support to further their exploration of audience members as participants territory they had begun to explore in 4inXchange, Nightswimming 5×25 commission.
All for One for All is an interactive, theatrical game show in two acts. A single audience member becomes the One, the rest of the audience becomes the All. xLq guides the All and the One through choice-driven experiences, reality show-style games, and collectively concocted rituals to reveal the audience's desire to collaborate, compete, dominate, and surrender.
After a series of pandemic-induced delays, xLq's residency developed Act Two during a two-week workshop in early 2022, and culminated in December 2022 with a two-week workshop at Factory Theatre. xLq took this opportunity to complete Act Two of All for One for All. Featuring surreal competitions, hilarious songs, and glorious costume changes, xLq used several presentations to its Artists-in Residence to generate invaluable feedback for future development.
xLq's creation residency was generously funded by the Ontario Arts Council and we are grateful for their support.
---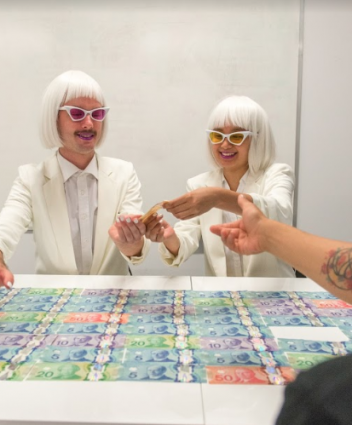 xLq is a POP ART performance duo comprised of Jordan Campbell and Maddie Bautista. Dedicated to radical performance forms, xLq combines ritual, fashion, dance, music, and queer pop aesthetics to create complicit audience experiences. Our body of work includes cabaret performances, drag shows, installation-based art parties and interactive performance playgrounds. xLq is also our lifestyle: the persona we use in our performances.
5×25 has literally been a dream come true. We had a big dream about a project called 4inXchange that was radical in form and concept. Nightswimming was able to see, understand, and appreciate our vision and provided us with the resources and connections necessary to realize our dreams. xLq