Creator-in-Residence
PJ Prudat is an actor and playwright. She participated in Brian's Playwriting and Dramaturgy course several years ago, which led to an invitation to develop a new project with Nightswimming's dramaturgical support. PJ is working on the following during two linked residencies with Nightswimming:
Constellations, Michif Shaped (Kiskisiwin Nimihko) digs deeply into the aftermath/tidal wave experience of a family in the time of Truth and Reconciliation — it is a story of catastrophic anger, darkness, Women, healing, returning light, and of what it can be to have a Mom. An online reading of this work-in-progress in 2020 pushed the project toward a complete first draft.
In 2021, PJ created a short film version of this project for the Toronto Digital Fringe Festival. Entitled kiskisiwin nimihko (remembering my blood), the film included PJ herself in a 30 minute monologue drawing on text from the play, and her own commentary on reconciliation, ancestry and loss.
"Writer PJ Prudat's 30-minute monologue is a cry from the heart. It's family lore and cultural ode, storytelling and memory as rebellion, and, most importantly, a way to "no longer be invisible." It is relevant, required viewing."
– Mooney on Theatre. Read the full review here.
In Fall 2021, PJ returned to the project with the Nightswimming team, in a workshop at Native Earth's Aki Studio. Through physical improvisations, writing and drawing exercises, and field-trips to view Indigenous art and artifacts around Toronto, PJ developed a dramaturgy using the Métis octopus bag as a framework. In spring 2022, PJ shared a new draft  with the Nightswimming team.
In November 2022, Nightswimming held a workshop of an updated draft of Constellations, Michif Shaped, explored its layered structure and concluded with a powerful reading of the latest edition.
PJ's creation residency was generously funded by the Ontario Arts Council and we are grateful for their support.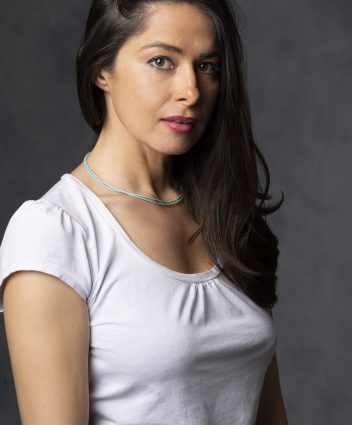 PJ Prudat is a Treaty-6-born, proud Métis ~Michif~nehiyaw~saulteaux playwright, actor and writer. PJ is a daughter-of-the-fur-trade; her otanskotapew~matrilineal ancestors-travelled by dog team, were Buffalo hunters, Métis Résistance Fighters & Treaty Six hereditary-chief signatories.
PJ has been greatly supported as a Creator-in-Residence with Nightswimming while working on her solo-show kiskisiwin nimihko (remembering my blood) and also holds a Residency with the Theatre Centre. She is a Co-Artistic-Leader at Shakespeare in the Ruff, where her play otîhêw premiered last summer (produced by Shakespeare in Action for summer 2023).
PJ has toured luminous IBPOC-creative-led shows across the country and is among the first ever Indigenous Women
to hold space as a Company Actor at both the National Arts Centre and the Shaw Festival.
She loves tacos, hats, poetry, and believes riding horses at break-neck speed are what dreams are made of. PJ is guided by Indigenous and ancestral stories of these lands— and she is currently pursuing her MFA Creative Writing at UBC.