Creator-in-Residence
PJ is an actor and playwright. She participated in Brian's Playwriting and Dramaturgy course several years ago, which led to an invitation to develop a new project with Nightswimming's dramaturgical support. PJ is working on two projects during her residency:
Nimihko (My Blood) digs deeply into the aftermath/tidal wave experience of a family in the time of Truth and Reconciliation — it is a story of catastrophic anger, darkness, Women, healing, returning light, and of what it can be to have a Mom. An online reading of this work-in-progress in 2020 pushed the project toward a complete first draft.
In 2021, PJ created a short film version of this project for the Toronto Digital Fringe Festival. Entitled kiskisiwin nimihko (remembering my blood), the film included PJ herself in a 30 minute monologue drawing on text from the play, and her own commentary on reconciliation, ancestry and loss.
"Writer PJ Prudat's 30-minute monologue is a cry from the heart. It's family lore and cultural ode, storytelling and memory as rebellion, and, most importantly, a way to "no longer be invisible." It is relevant, required viewing."
– Mooney on Theatre. Read the full review here.
Quick to Fire is a novel inspired by Indigenous pathways along the Great Lakes.
PJ's creation residency is generously funded by the Ontario Arts Council and we are grateful for their support.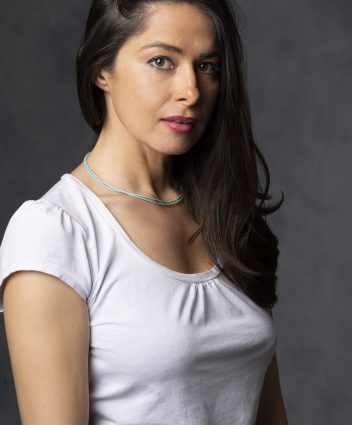 PJ Prudat is a Toronto-based, northern Saskatchewan-hailing, proud Métis actor and a writer of plays, poetry and creative fiction. As an artist, PJ is galvanized by the Indigenous perspective, experience and stories of this land. She is a Creator-In-Residence at Nightswimming 2019/20 and a RBC Resident Creator at Canadian Stage 2019/20.  PJ has performed as a company actor at both the National Arts Centre English Theatre and the Shaw Festival and has toured shows extensively across the country. She is a former Playwright-in-Rez for Native Earth Performing Arts and a writer in the Natural Resources Creation Group at Factory Theatre.
PJ is a recent nominee for the inaugural Johanna Metcalf Performing Arts Award and a Laureate of the Reveal Indigenous Art Award. Her play Réunir (Saskatchewan Native Theatre Company), inspired by the Métis Résistance, was nominated for a SATAward (Outstanding Achievement in Playwriting). Recently she performed as Grace in The Ministry of Grace (Belfry Theatre) and as Rebecca in The Unnatural and Accidental Women (National Arts Centre–Indigenous Theatre). PJ is elated to be a part of the community at Nightswimming.  Kitatamihinâwâw.