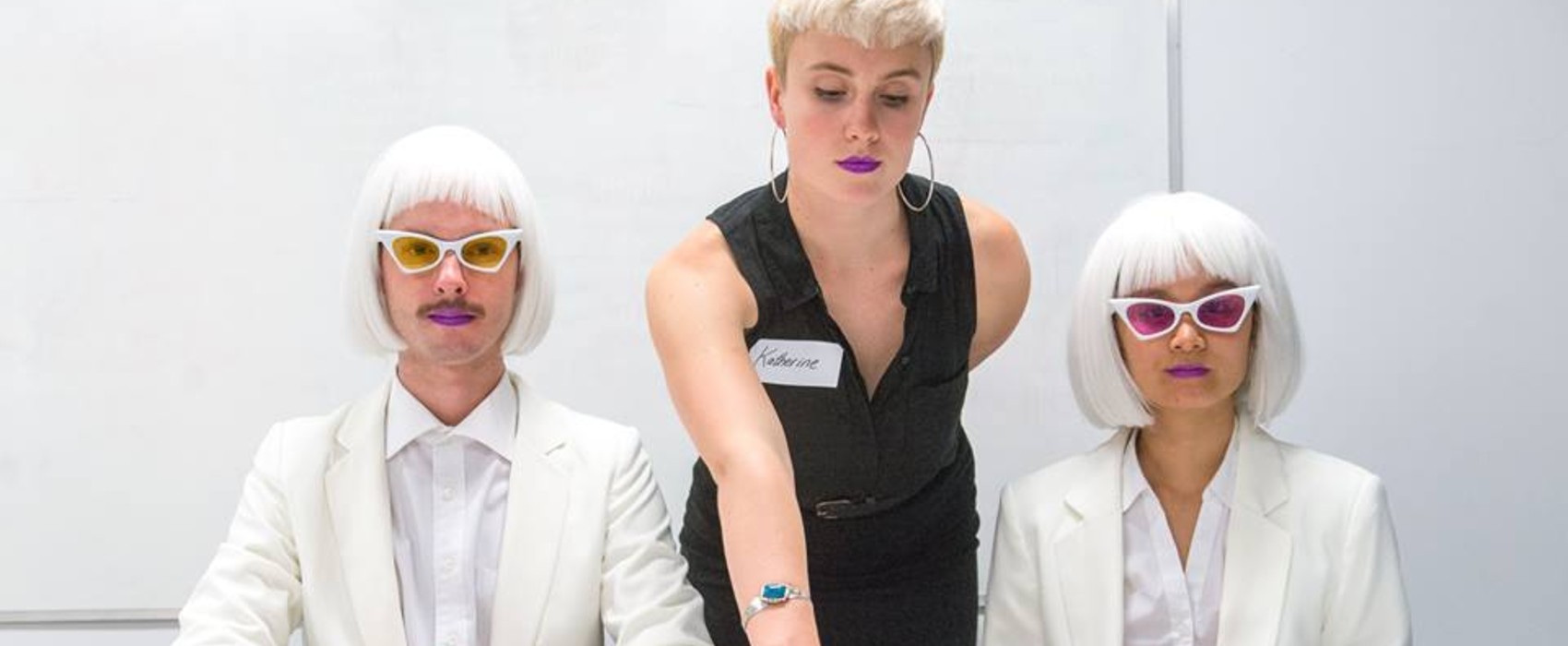 xLq
4inXchange – Year 2 Commission
4inXchange is an interactive, site-specific game with four players and $1,000 in cash – a pop art business meeting that guides the four participants through a series of dialogues, chances, choreographies, conversations, competitions, and meditations about currency and its role in our lives. The show uses the cash on the table to get to know one's fellow participants, while xLq asks provocative questions about value, intimacy, love, and truth.
4inXchange was commissioned in 2017 in the second year of Nightswimming's 5×25 initiative.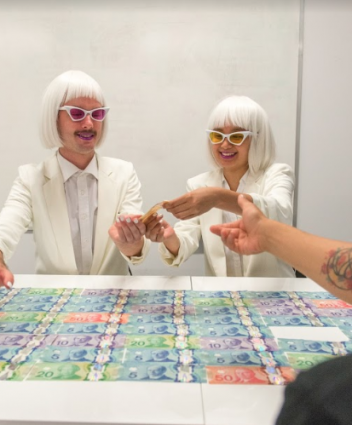 xLq is a POP ART performance duo comprised of Jordan Campbell and Maddie Bautista. Dedicated to radical performance forms, xLq combines ritual, fashion, dance, music, and queer pop aesthetics to create complicit audience experiences. Our body of work includes cabaret performances, drag shows, installation-based art parties and interactive performance playgrounds. xLq is also our lifestyle: the persona we use in our performances.
5×25 has literally been a dream come true. We had a big dream about a project called 4inXchange that was radical in form and concept. Nightswimming was able to see, understand, and appreciate our vision and provided us with the resources and connections necessary to realize our dreams. xLq
Dramaturgy & process
xLq had a very clear and powerful vision of the show they wanted to create with their 5×25 commission. We were drawn to their commitment to improvisational creation, and to the joyful spontaneity of their work. They are truly playful in their approach to what they wanted to make and the serious ideas around value, money and their impact on our lives.

My dramaturgical role has been to help Jordan and Maddie design the creation process…asking questions about how and in what ways they wanted to make the show. As the piece developed, Brittany and I offered insights into how the unusual and wonderfully unexpected choreographic sections worked, and about how xLq was welcoming the four audience/participants into the intimate world of their show.
Nightswimming providing our office board table as a workshop space for early explorations of how the 4 individuals would be brought together to interact with the $1,000 that is the central prop for the performance, and we attended rehearsals to offer constructive responses to the experience of early versions of the show.
Much of the premiere version was then rehearsed in our office, at night and on weekends,and we were thrilled to watch as the show became a hit at the SummerWorks Festival. xLq has continued to revise and refine the performance for each run, playfully integrating new ideas and always conscious of how to engage safely but provocatively with its participants. The online edition transferred beautifully to Zoom, the pandemic platform of choice for business meetings in 2020. 
Production History
4inXchange premiered at SummerWorks Performance Festival 2018 where it won the NOW Magazine Audience Choice Award, and went on to tour to the rEvolver Festival in Vancouver and FemFest in Winnipeg. It toured across Ontario to Kitchener, Fergus, and Waterford in 2020, followed by a new online edition created and performed on Zoom, produced by lemonTree productions in association with Nightswimming.