Thumbsucker – Year 4 Commission
By the time the sun goes down, Thumbsucker's parents are mostly yelling and pushing. When it gets scary, she sits between the shoes on her closet floor, and sucks her thumb. She closes her eyes, and opens them in an enchanted world.
Old sweaters twist into aerial silks and winter hats fold into intricate masks. In the face of magic and monsters, Thumbsucker bravely stoppers her tears. But when her little brother Bubber stumbles into her secret world, will Thumbsucker's powers be enough to keep out the Bad for both of them?
Thumbsucker was commissioned in 2019 in the fourth year of Nightswimming's 5×25 initiative.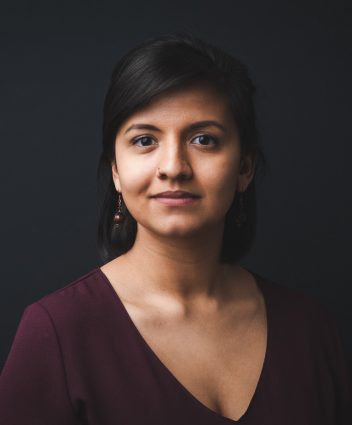 Shanti Ikwe Gonzales is a theatre director and creator based in Montreal. She has collaborated with companies such as Tableau D'Hôte Theatre, Repercussion Theatre, Black Theatre Workshop, Playwrights Workshop Montreal, Teesri Duniya Theatre, SistersinMotion, and Montreal Arts Interculturels (MAI). She is an alumna of Black Theatre Workshop's Artist Mentorship Program, Playwrights Workshop Montreal's Young Creators Unit, and McGill University. Shanti is the Membership and Communications Coordinator for the Quebec Drama Federation. She is also a children's music teacher with Monkey Rock Music, a drama teacher with Geordie Theatre School, and a member of the interdisciplinary artist collective Drawing Board Collective.
Dramaturgy and process
Shanti visited Nightswimming in Toronto in 2020 to explore her ideas for Thumbsucker, inviting Brian and Brittany into a mini storytelling workshop in which Shanti described her ideas and inspirations for the show, and read early sections of writing for Thumbsucker and her little brother Bubber. Writing exercises and dramaturgical tasks from Brian urged Shanti to continue the creation process through text, images and objects. She's currently working on its first full draft.