Wiwimaw – Year 3 Commission
In Wiwimaw, Tai explores the way Métis women have been erased from Alberta's history while their husbands thrive in countless stories and living documents. Told in 3 languages (French, Cree and Michif) Wiwimaw brings Marie and Rose back to life across five generations with their stories and songs and children, along with live music and a kitchen party that brings these forgotten women back to centre stage.
Wiwimaw was commissioned in 2018 in the third year of Nightswimming's 5×25 initiative.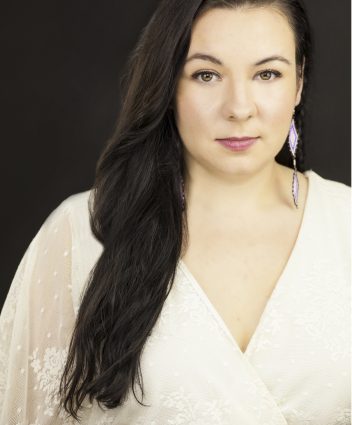 Tai Amy Grauman is Métis, Cree and Haudenosaunee from Ardrossan, Alberta. Tai received Jessie Richardson Award for most promising newcomer in 2017. She was also Vancouver's Mayor's Emerging Theatre Artist of 2015, nominated by Margo Kane. This past year Tai has been developing her play You used to call me Marie… which has had multiple readings and development phases across the country. Savage Society recently produced a two week workshop of the piece. Tai is also an artistic associate at Savage Society. She also has a commission with Axis through which she is currently developing her show called Where did all the buffalo go….  Selected Acting Credits include  Honour Beat (Grand Theatre), Thanks For Giving (Arts Club), The National tour of Weaving Reconciliation (Vancouver Moving Theatre) and Battle of the Birds (Savage Society). Recent directing credits include: Pull Fest (Speakeasy theatre) and the assistant direction of The Taming of the Shrew (Bard on the Beach). 

Dramaturgy and process
Tai has completed extensive research on the history of Alberta's Métis women, and explored the rich landscape of her own family over many generations. That research has deeply informed the first draft of the play which Tai completed in late 2020.
In addition to the dramaturgical support of Nightswimming,  Tai has received dramaturgical support from Kathleen Flaherty of Vancouver's Playwrights Theatre Centre, and more recently has been working with director Lois Anderson, producer Brittany Ryan, and collaborators Julie Lumsden and Kathleen Nisbet. A workshop process in early 2022 through Edmonton's Riser Project led to the creation of a powerful short film inspired by the play, to be released in late 2022.
We look forward to contributing to the development of the play in 2023 and beyond.
It has been incredible to have Brian and Brittany's support throughout this process. The 5×25 commission has given me the freedom, time and resources to create my play in my own way while also being able to reach Brian and Brittany whenever I need. I'm looking forward to the years ahead with Nightswimming!

Tai