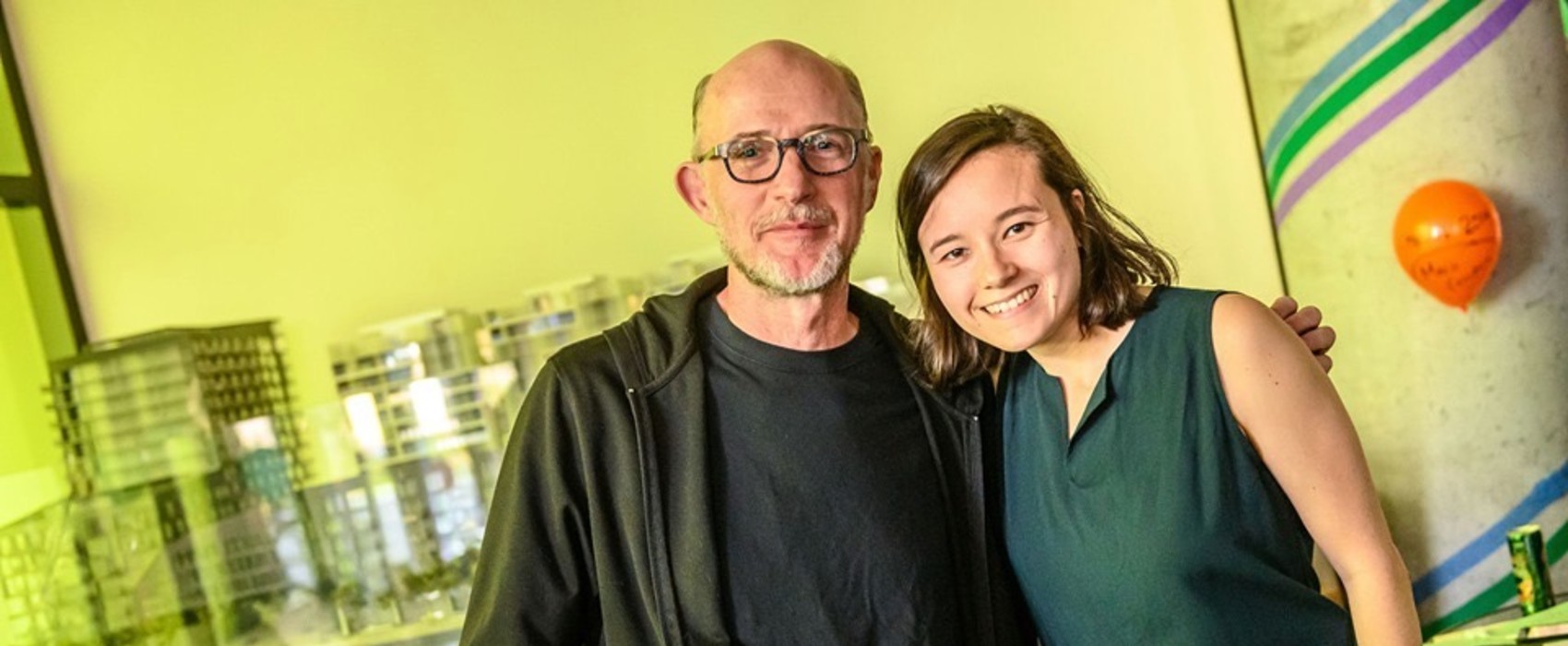 Mentorship & Training
The most effective way to mentor dramaturgs, playwrights and theatre creators is to hire them, commission them, and collaborate with them…to treat them as equal rather than as 'emerging' and invite them into every aspect of how Nightswimming operates.

Brian Quirt
Producing internships are central to Nightswimming's mission to create more opportunities for Indigenous and culturally diverse producers, administrators, and designers in order to change the face of leadership in the arts, impact who is hired and what art is seen.

Brittany Ryan
Nightswimming loves to host short and long-term internships in dramaturgy, play creation, producing and new play development. We partner with funders, theatre training institutions and university programs to support students, young-in-craft artists, and artists building new pathways in their careers.
It is vital to us that students and artists under age 30 are welcomed into Nightswimming's play development processes and are able to gain artistic leadership experience with an innovative small theatre company that operates on a national scale. Offering these opportunities central to our commitment to innovation and to advancing the field of dramaturgy and play development in Canada.
While many of our internships focus on dramaturgy mentorships with Brian, we have also provided invaluable producing mentorships to train individuals in the specifics of producing new works in development, with a focus on the creation rather than the production process.
Our invaluable partner in offering many of these internships has been the George Cedric Metcalf Foundation, whose Performing Arts Internship program has been central to funding year-long internships at Nightswimming. A huge thank you to their leadership in this crucial element of our field, and their commitment to supporting dramaturgical and producing mentorships.
We have also partnered with universities and theatre training programs to invite students into our dramaturgical processes, particularly Pure Research and City of Wine. These partners include University of Toronto Centre for Drama, Theatre & Performance Studies, George Brown Theatre School, Humber College Theatre, York University Department of Theatre, Simon Fraser University, Studio 58 at Langara College, University of Calgary's School of Creative and Performing Arts, Concordia University, and Grenfell College at Memorial University.
In addition to our work with individual interns and mentees, we created the 5×25 initiative to specifically engage with new generation artists across Canada. Over five years from 2015-2020 we commissioned 5 artists under the age of 25, establishing a national network of more than 100 artists who've applied to the program, offering them guidance and mentorship.
If you're interested in discussing internship and mentorship opportunities at Nightswimming, please contact us and tell us what you're interested in exploring. We look forward to hearing from you.
5×25's support has allowed me to develop as an artist at my own pace, on my own terms. I have grown profoundly – not exponentially or quickly, but in a way that grounds and strengthens a career.

Rhiannon Collett
Nightswimming has honed its practice over many years, making it an excellent company for mid-career artists to incubate and advance their work and for emerging artists to discover and cultivate their practice.

Christine Quintana
Past Participants
Interns that we've supported have gone on to positions at organizations such as the Tarragon Theatre, Harbourfront Centre, Black Theatre Workshop, The National Theatre School, Cahoots Theatre, Theatre Direct, Arts Club Theatre, University of British Columbia, among others, while our writing interns have become leading playwrights whose work has been produced and published.
We've enjoyed working with and have learned much from these artists that have completed internships at Nightswimming:
Nathaniel Hanula-James – Dramaturgy
Producing, via Humber College's Arts Administration
Myekah Payne – Dramaturgy
Aaron Jan – Producing, via Generator
Olivia Shortt – Producing
Jeff Ho – Dramaturgy
Serhat Dogantekin – Playwriting, via the TAC Newcomer and Refugee Artist Mentorship Program
Sehar Bhojani – Artistic Direction
Maddie Bautista – Producer, via Generator
Christine Quintana – Playwriting and Dramaturgy, via a BC Arts Council Early Career Development Grant

Emma Mackenzie Hillier – Producing and Dramaturgy
Rachel Steinberg – Dramaturgy
Alysse Rich – Dramaturgy, via the Theatre Ontario Professional Theatre Training Program
Leora Morris – Dramaturgy
Ulla Laidlaw – Dramaturgy, via the Theatre Ontario Professional Theatre Training Program
Marie Barlizo – Dramaturgy
Andrea Romaldi – Dramaturgy
Rupal Shah – Producing
Sandra Lefrançois – Producing