Artistic Director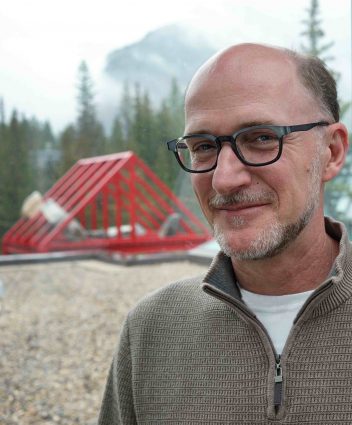 I'm a dramaturg, and founded Nightswimming from that perspective, to amplify the voices of the artists I wanted to collaborate with. I'm also a playwright, director, and theatre maker who has created 10 new pieces alongside my dramaturgical work that supports the creative visions of writers, choreographers and composers.
Brian Quirt is the founder and Artistic Director of Nightswimming. His work as dramaturg, director and playwright has been seen at theatres across Canada. Since 2012 he has also been Director of the Banff Centre Playwrights Lab. With Nightswimming he has commissioned and developed 35 new works, created ten of his own plays, and directed the premieres and national tours of many Nightswimming productions including new works by Anita Majumdar, Carmen Aguirre, Anosh Irani, Judith Thompson, Michael Redhill, Jason Sherman and Jane Urquhart. He's held senior positions at the Great Canadian Theatre Company, Factory Theatre, The Theatre Centre and Canadian Stage Company. 
Dramaturgy
With more than 35 years experience as a dramaturg, Brian has worked with many of Canada's leading playwrights and has an international reputation for his commitment to innovative approaches to dramaturgy. In addition to his projects with Nightswimming, he has collaborated as a freelance dramaturg with a long list of artists across Canada through the institutional positions he has held, including Mieko Ouchi, Marie Clements, Marjorie Chan, Michael Healey, Marcus Youssef, Hiro Kanagawa, Jovanni Sy, Djanet Sears, Michael O'Brien, Jani Lauzon, Sunny Drake, Maureen Hunter, Andrew Kushnir, and many others.  
He was Board Chair (2015-21) and President (2006-08) of the Literary Managers & Dramaturgs of the Americas. He founded and was President of LMDA Canada from 1996-2006, and is a two-time recipient of LMDA's Elliott Hayes Award for Outstanding Achievement in Dramaturgy. He chaired LMDA's 2007 conference in Toronto, and co-chaired its conferences in San Diego (2008) and Banff (2023).
He was founding Board Chair of SpiderWebShow Performance (2016-20). He received the inaugural Bra D'Or Award from the Playwrights Guild Of Canada (2006) in recognition of his efforts in supporting and promoting the work of Canadian women playwrights.
He established the Research program at Toronto's Theatre Centre and since 2003 has led Nightswimming's innovative Pure Research program in Toronto, Vancouver and Calgary, and partnered with companies in Denmark, Iceland and Norway to explore performance research in an international context. He has spoken about his dramaturgical work at conferences across Canada and in the US, UK, Mexico, Denmark, Germany and China. 
His work as a dramaturg has been documented in articles, journal and books, including publications such as The Routledge Companion to Dramaturgy, Dramaturgy in the Making, New Dramaturgy, Developing Nation: New Play Creation in English Canada, Theatre Topics, and the Canadian Theatre Review. Visit Nightswimming's Dramaturgy Resources to read his articles on dramaturgy.
Directing
As a director, his credits include premieres of these Nightswimming commissions: Anita Majumdar's The Fish Eyes Trilogy (2014-18 national tours) and Same Same But Different (Theatre Passe Muraille/Alberta Theatre Projects), Carmen Aguirre's Broken Tailbone (US premiere 2017; national tour 2018-20) and Blue Box (2012-2014 national tour), Anosh Irani's Bombay Black (Cahoots Theatre and tour), Judith Thompson's Such Creatures (Theatre Passe Muraille), Andy Massingham's Rough House (2006-09 national tour), Richard Sanger's Whispering Pines (GCTC) and Don Druick's Through the Eyes (premiere in 1995 and new production at Factory Theatre in 2003 plus tour to the Magnetic North Festival in 2004). He directed a national tour of Michael Healey's first play, Kicked, and national tours of two new plays by Pierre Brault. He has been nominated for four Dora Mavor Moore Awards; three for directing, including Anita's Boys With Cars at Young People's Theatre, and one for his co-adaptation of Aurash.
New Creations
He has created ten of his own plays, with The Wolf in the Voice (with Martin Julien) and his adaptation of Kenneth Oppel's The Nest currently in development. His recently produced projects include These Are The Songs That I Sing When I'm Sad (with Jane Miller) which premiered at Vancouver's Boca del Lupo and recently toured to Victoria's Belfry Theatre, and Why We Are Here! (with Martin Julien) at the High Performance Rodeo in Calgary . His other plays include the Summerworks hit Lake Nora Arms (adapted from Michael Redhill's book with Jane Miller), Blue Note (with Martin Julien; Harbourfront Centre), The Death of General Wolfe (Theatre Passe Muraille), and adaptations of Jane Urquhart's The Whirlpool (Tarragon Theatre), and the Iranian play Aurash (with Soheil Parsa; Modern Times Theatre in Toronto, Iran, Columbia, Cuba and Bosnia). His tenth project – an exploration of songs that have been banned – is in its initial phase of research and creation.
Institutions
Brian serves as Director of the Banff Centre Playwrights Lab, which he has expanded to incorporate international guest artists, creation company residencies and diverse approaches to theatre making. 
Brian has been Interim Artistic Director of the Great Canadian Theatre Company, Company Dramaturg at Factory Theatre, Dramaturg at the Theatre Centre and Dramaturgical Associate at the Canadian Stage Company. For the National Arts Centre, he was the Project Leader for a National Creation Lab, conducting interviews with more than 100 artists nationwide about performing arts creation requirements. It led to the establishment of the NAC's National Creation Fund.
He has served on many arts council juries with the Canada Council, Ontario Arts Council and Toronto Arts Council, and is a long-time member with the Professional Association of Canadian Theatres (PACT), serving on teams that negotiated the Canadian Theatre Agreement and agreements with the Playwrights Guild of Canada.
Independent Projects
He has also worked as a dramaturg for many independent companies and artists, from Mirvish Productions and the Manitoba Theatre Centre to dramaturging and directing national tours of 5 O'Clock Bells and Portrait of an Unidentified Man by Pierre Brault with Ottawa's Sleeping Dog Theatre. In addition to his theatrical work, Brian specializes in dance and choreographic dramaturgy, has an MA from The Centre for Drama, Theatre and Performance Studies at University of Toronto, and has been an adjunct professor at York University's Department of Dance.