Dramaturgy Intern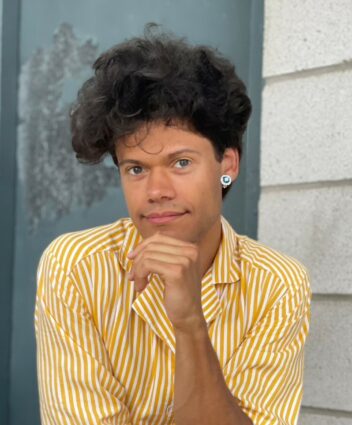 Nathaniel Hanula-James (he/him) collaborates on theatre performances as an actor, writer and administrator—and most recently as Nightswimming's Metcalf Dramaturgy Intern. A settler on this land, he hails from the unceded, traditional and occupied territories of the Musqueam, Squamish, and Tsleil-Waututh peoples. He now makes his home in Tkaronto. The theatre that makes Nathaniel jump for joy is irreverent, zany and unabashedly queer.
Performance credits include Towards Rebirth (a devised piece by Shakespeare in the Ruff), Tiny Treasures (Manitoba Theatre for Young People), and A (Musical) Midsummer Night's Dream (Driftwood Theatre). Nathaniel's solo show Untitled Flamingo Play, about a queer child in search of a role model, was featured in the Centaur Theatre's 2019 Queer Reading Series. With support from Canada Council, Playwrights' Workshop Montreal, the National Theatre School of Canada and Talk is Free Theatre, Nathaniel has continued to expand and develop Untitled Flamingo Play: a recorded version of the solo show will premiere in the 2021 Vancouver Fringe Festival. Nathaniel continues to work on his writing practice as part of Teesri Duniya's Fireworks Playwrights' Program, and he recently dove into podcast creation through Fixt Point Arts and Media's Empathy Squad.
Nathaniel has also followed his curiosity into producing and arts research. He is an alumni of the Paprika Festival's Creative Producers and Administrators program. Together with four colleagues from Humber College—Indu Adiyat, Kafi Pierre, Ashutosh Sharma, and Naomi Stokes—he worked with arts research organization Mass Culture to create a video interview series spotlighting ten different IBPOC arts service organizations from across the country.
Nathaniel is a graduate of the National Theatre School of Canada, McGill University, and Humber College's Arts Administration and Cultural Management program. He is so grateful to the Metcalf Foundation for this chance to explore the theory and practice of dramaturgy.
Nathaniel's position is generously supported by the George Cedric Metcalf Foundation. We thank them for their ongoing commitment to professional training, and generous support for Nightswimming.